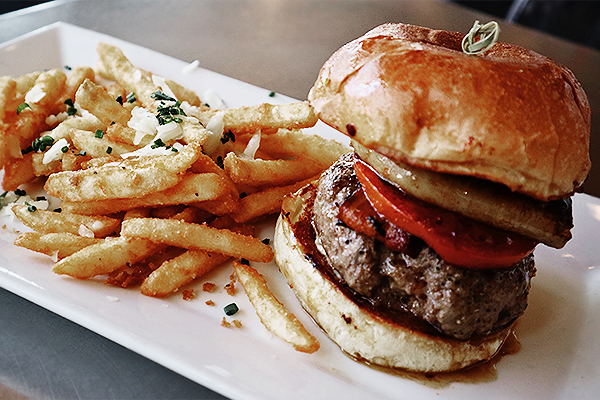 Z Grille is a bit of a 'blink and you miss it' destination in downtown St Pete (or DTSP, as the cool kids call it). From the corner of 1st Avenue South, its an unassuming stretch of al fresco tables that have nothing on the grind-rail lined interior and sophistication whipped out of its open kitchen.
Z Grille's chef and owner, Zach Gross, is a creature of constant experimentation. Though there are a few items that would cause an uproar if removed, the menu is as improvisational and creative as the Grille can get away with. It is a daring take in a competitive area and something they're doing very well.
It is the type of place you want to bring all your friends so you can try a little bite of everything. Especially the Shrimp 'Nachoz' (crab queso, corn salsa, Pico De Gallo, avocado Salsa, queso fresco, cilantro crème, and pickled onions) and the gargantuan Foie Burger (house ground brisket & Ribeye, grilled onions, grilled tomato, applewood bacon, foie gras & garlic mayo), which is served with the most addictive manchego and chive-sprinkled truffle fries I have ever had the pleasure to taste.
Pro tip: save room for a few killer cocktails – they are as aptly named (ie Skinny "Beeyotch") as they are delicious.