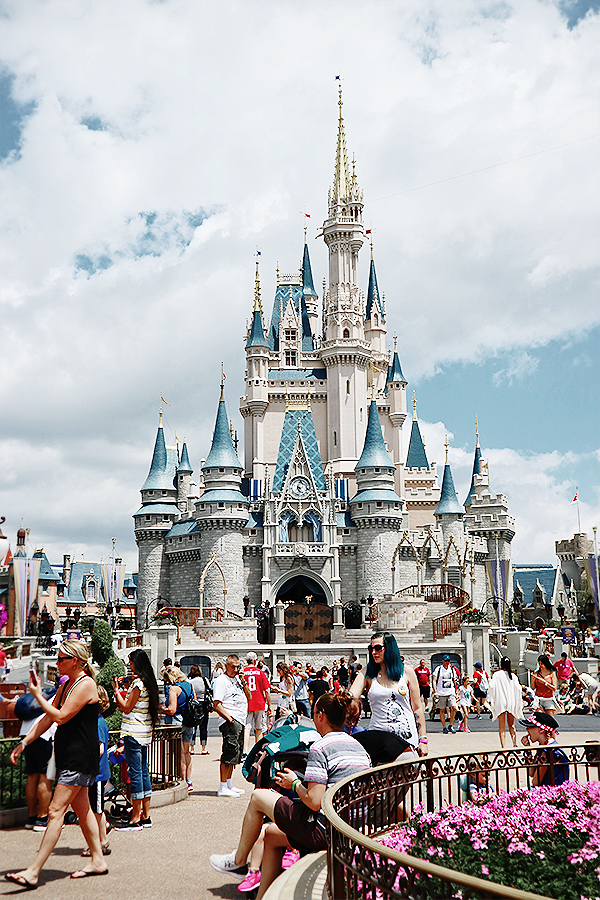 Almost twenty-five years since my first visit, I took advantage of my month-long Floridian adventures and returned to Walt Disney World.
With a terminally busy schedule, I was only able to commit one day to Disney and everyone I shared my excitement with responded with a troubling instinct – "can you do Disney in a day?".
I had no idea. But it was all the time I had and, silver lining style, I knew I'd be able to at least let you guys know if it wasn't…
Disney Springs
If you have time the night before your "Disney Day", I highly recommend a visit to Disney Springs. The outdoor shopping, dining, and entertainment complex is completely free to enter and a glorious introduction to the magical Disney feels that the parks are famous for.
The dinner spots are plentiful, performances tend to pop up everywhere you walk, souvenirs abound (perfect if you're looking for a pair of ears to wear to the parks), you can walk around with alcoholic "hard" tea (served at Joffrey's), and they even have an Instagram-famous cupcake ATM (just look for Sprinkles).
If you're going with a little one who would love the Bibbidi Bobbidi Boutique experience, Disney Springs also provide a great opportunity to do so outside of the park.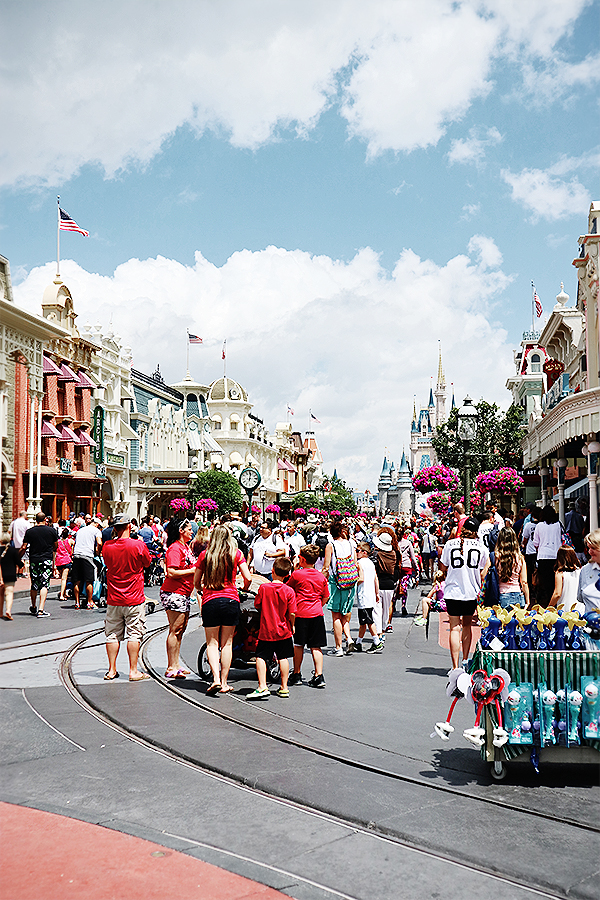 Walt Disney World – Magic Kingdom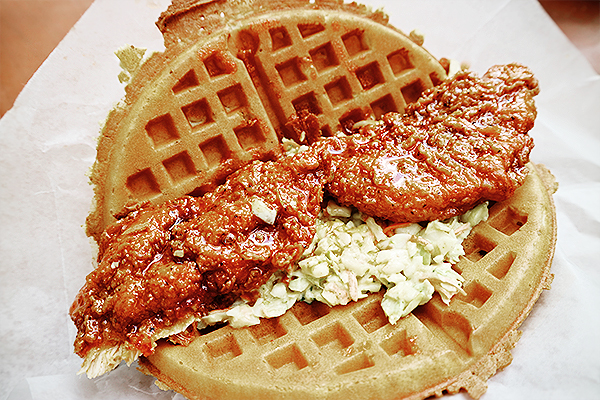 What to Eat at Disney World – Magic Kingdom
Whether you're brunching or lunching, the Sweet and Spicy Chicken Waffle Sandwich from Sleepy Hollow Refreshments in Liberty Square (just left of the castle) is an unbelievable first choice. Disney's chefs truly made a cult classic there.
Bonus: if you're still peckish, Sleepy Hollow allow served the adorably delicious Mickey-shaped Vanilla Ice Cream Cookie Sandwiches.
What To Do at Disney World – Magic Kingdom
– Space Mountain. The classic pitch-black, space-themed steel roller coaster of dreams.
– Monster's Inc Laugh Floor. I chose to do it based on short queue alone and was massively impressed. Without giving too much away, the Monsters cater the experience completely to each new audience and had adults and children laughing in equal measure.
– The Festival of Fantasy Parade. Put simply, it is a spectacle. The joy of the children watching all of their favourite Disney characters dance around them is reason enough.
– Whatever else takes your fancy! Just avoid Splash Mountain unless you're roasting – you don't want to start your day wet.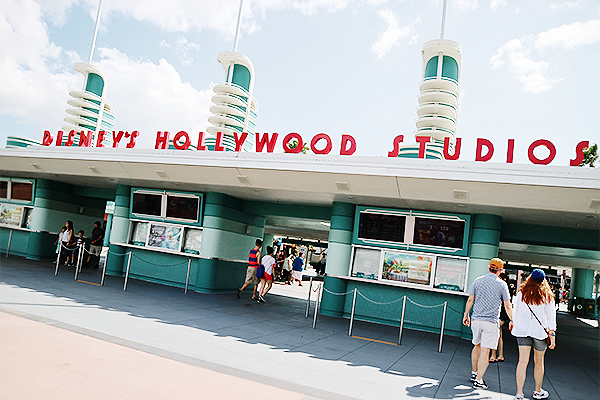 Disney's Hollywood Studios
There is a bus depot in front of the Magic Kingdom that can shuttle you to any other Disney park or hotel in a flash. The nearest, dearest, and significantly less busy being Disney's Hollywood Studios.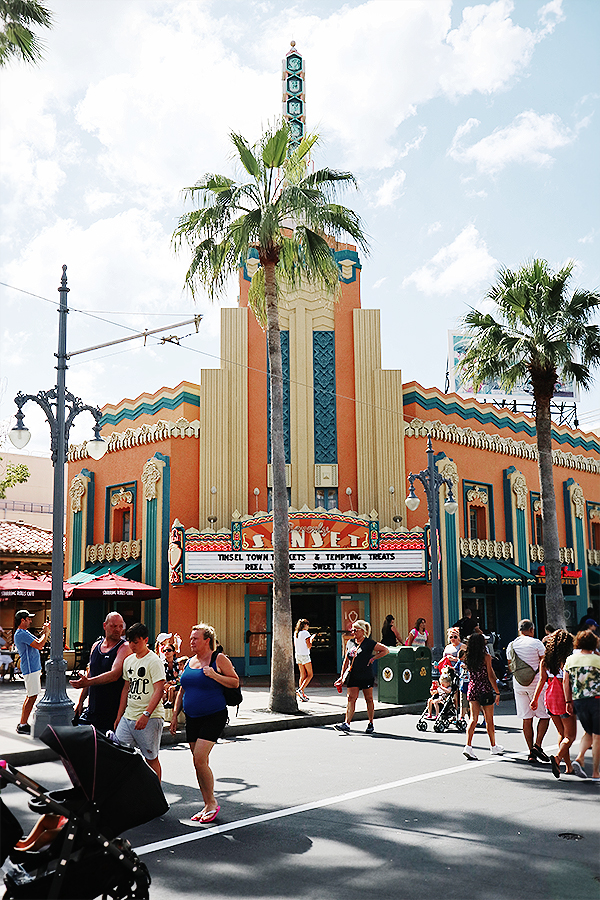 What to Eat at Disney World – Hollywood Studios
The Royal Guard Burger at Backlot Express. It is a restaurant-worthy 1/3 lb chargrilled Angus beef burger topped with barbecued brisket, pepper jack cheese, lettuce, tomato and a pickle on a black bun. Served with Carrot Sticks (a godsend, post chicken and waffle brunch) or French Fries. You can eat indoors or outdoors.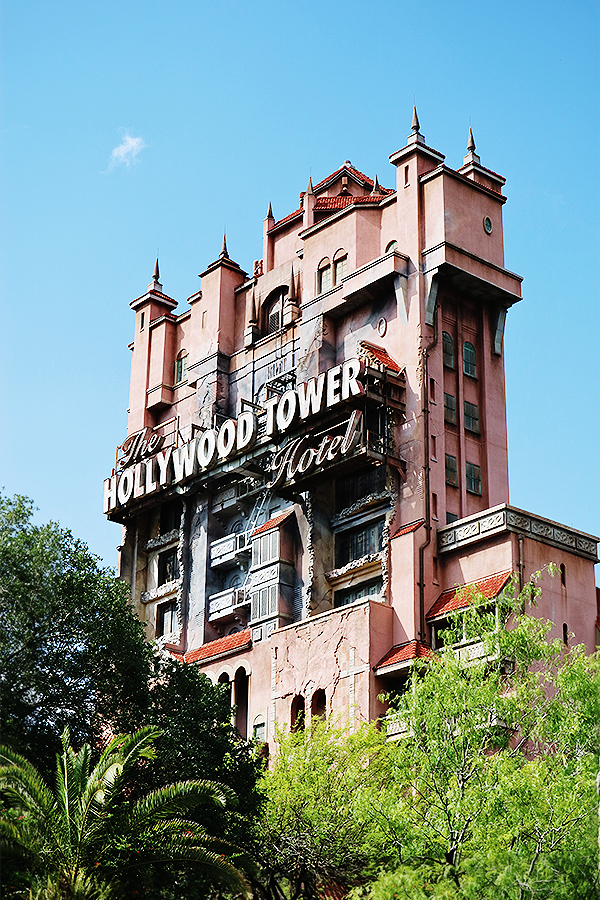 What to Do at Disney World – Hollywood Studios
– The Tower of Terror. The queues are long (because it's awesome – use a FastPass+) but the wait is beautiful.
– Rock 'n' Roller Coaster Starring Aerosmith. Perhaps my favourite of all Disney's coasters.
– For the first time in forever: a Frozen sing-along celebration. It is a full-force show and so much more than you'd expect.
– Walk around. It is a stunning ode to Old Hollywood and almost felt like being back in Los Angeles.
– Fantasmic! It is the perfect way to end your day and much more than the traditional "over the castle" fireworks (which go off approximately 10 minutes after Fantasmic ends).
Tips for doing Disney in a Day
:
– Don't drive. We got dropped off at one of the Disney hotels and took the free tram in. All in all, you save time looking for a spot, you don't pay for parking,and you don't have to worry about being too tired to drive at the end of the day.
– Choose two parks if you're on multi-pass. You should definitely have enough time to do both "well" but would be likely to feel rushed if you tried to fit a third in. As you know, I chose Magic Kingdom and Hollywood Studios. I loved Epcot as a child, but as someone who has been travelling the world for the past eight years I was more interested in Hollywood Studios' rides than I was a "world showcase".
– Sunscreen and water. It's Florida. Heat abounds. If you bring a hat to avoid scalp burn (recommended), I advise opting for one you can hold on to securely during rides.
– Do not wait to pick up your tickets when you arrive. At busier times, this can take up to thirty minutes and you don't have that time to lose!
– Use "My Disney Experience" and the Walt Disney World app. Once you book your tickets, Disney's Experience portal allows you to book dining experiences, plan an itinerary, arrange your complimentary FastPass+ rides & experiences, and more. Everything you arrange transfers to the phone app which – once at Disney – also acts as a map and a helpful guide (ie. tracking where characters are, bathrooms are, etc). Time management at its mouse-eared best!
– Get more Fast Passes. When we arrived in Hollywood Studios, I double-checked our Fast Passes at one of the kiosks and found we had been gifted three more! Though there is no trick to getting them, I assume Disney releases them when there is less demand on certain rides or as the day gets later and people start to leave the park. It's worth a kiosk stop.
– Take it all in. I took my fair share of photos and video, obviously, but made a conscious effort to keep all phones and equipment (at a slight blogger disadvantage) pocketed at least 80% of the time. The magic is in the air, not the iPhone.
Can you do Disney in a day? Absolutely.