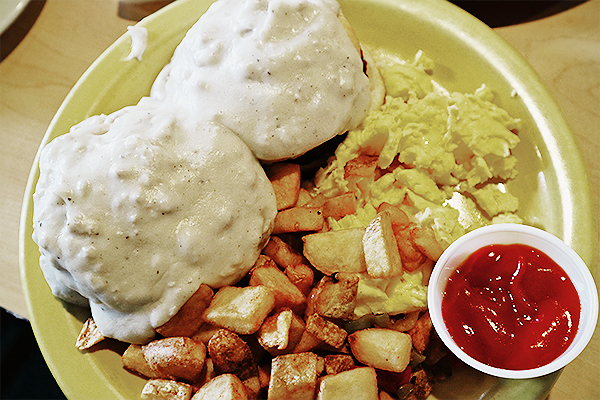 As far as I'm concerned brunch, drag queens, and broadway are a few of the more glorious thrills this wide world has to offer. The combination of all three? A dream brought to life by Hamburger Mary's in Orlando.
Each Sunday, their 'Broadway Brunch' welcomes patrons old and new to enjoy some gargantuan-plated American brunch classics while The Minx, Nicky Monet and around a dozen of their drag queen compadres put on an always-changing song and dance review.
During my visit, I enjoyed as much of the Country Biscuits and Gravy breakfast (two hot & fluffy biscuits sitting atop two sausage patties, covered with sausage gravy, and served with 2 scrambled eggs) as I could stomach before two hours of seat-dancing through a dozen performances – everything from naughty Disney mashups to outstanding Sister Act renditions.
Though their Sunday brunch menu (served from 11 to 3 – timed perfectly with the show's midday start) features omelettes, pancakes, chicken fried chicken, et al, the brunch is not about the food. It is about the love, family-friendly hilarity, and passion of the drag community.
That and enough mimosas and skinny margaritas to lose all your dollar bills in two songs or under.
Whether you're looking for somewhere to celebrate a birthday, bachelorette, or basic boozy brunch – Hamburger Mary's is the best solution Florida has to offer.