St Pete and Clearwater are renowned as holiday destinations for sun and sand. Rightfully so. But after spending a month in St Pete and living like a local, I learned the so-called 'Sunshine City' has as much – if not more – to offer as its sugar sand-covered coastlines.
Read on for the 411 on block parties, local trends, some of the best food anywhere in America, and more.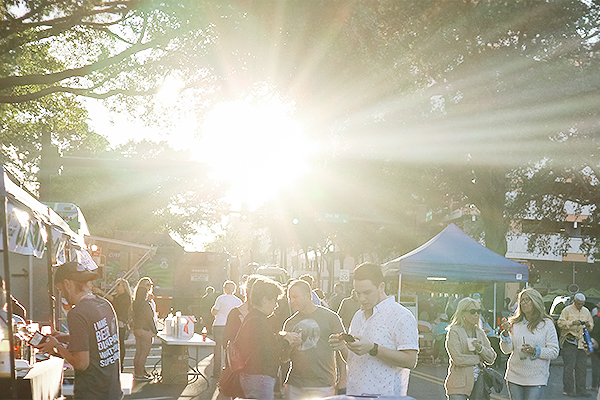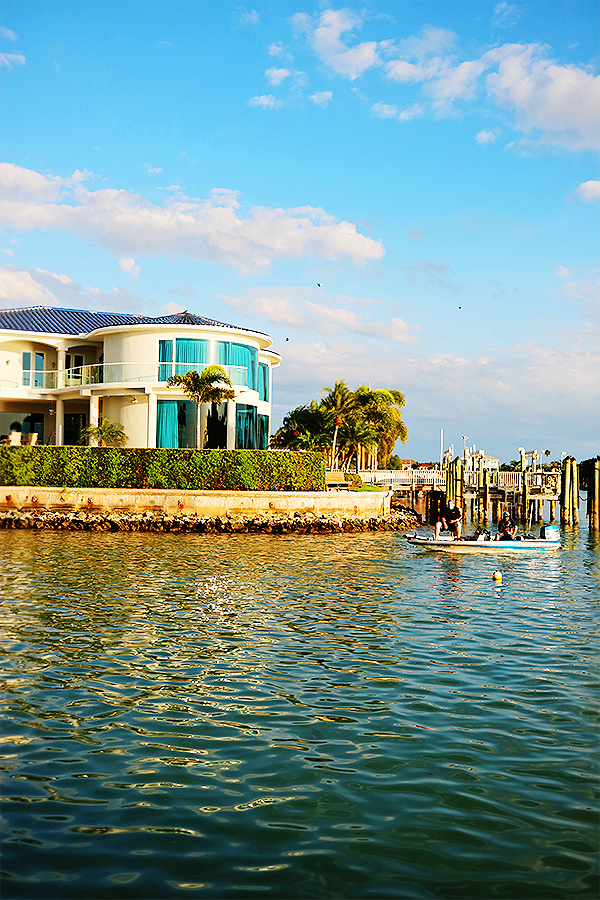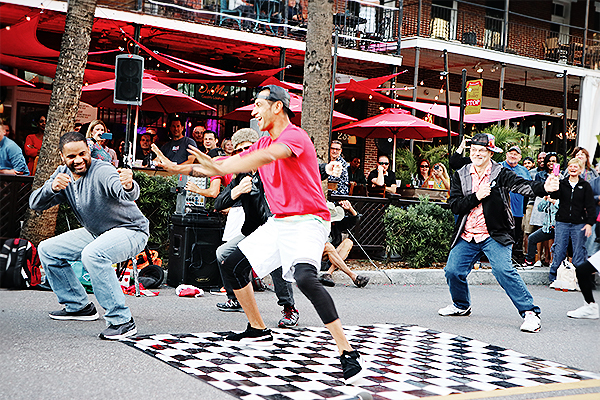 First Friday St Pete
On the first Friday of every month, the heart of downtown St. Pete (or DTSP) turns into an all-night block party for babies and baby boomers alike. From the early evening, Central Avenue closes the roads between 2nd and 3rd Street to showcase local bands, performers, food and drink before underage visitors head off for bedtime and thralls of good time-lovers from St Pete and all its neighbouring citie pile in and around the bars for a night out to remember.
For me, First Friday was a dance-heavy tour of some great local bars, the epitome of an electric atmosphere (which I suppose comes hand in hand with people skipping around the streets with open containers), and the birth of many new friendships. An absolute must-do.
Shuffleboarding
No, hear me out…I'm also in my 20s.
The St. Petersburg Shuffleboard Club is the oldest and largest shuffleboard club in the world (it was founded in 1924), and the locals have taken note. While the game stereotypically falls under OAP hobby categorization, it has become something of a trend among local 20 and 20-somethings. So much so the club have decided to open up their facilities to the public every Friday night, BYOB and all.
Though I had never played shuffleboard before, a night learning under the Club's twinkling lights – with kind tutelage by shuffle-neighbours all around – was a genuine blast. Helped massively by a freak winning streak.
I would arrive right as they open (7pm) as lanes fill up fast, play a few, then – if your travel dates work in your favour – head to First Friday for a perfect Friday night.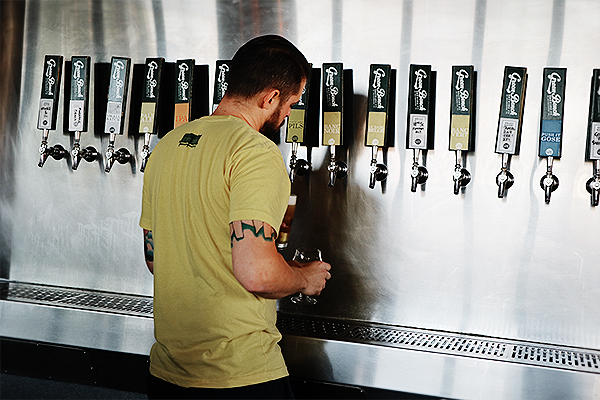 The Best Craft Beer in America?
For no discernible reason, St Pete seems to have hyper-bleached its reputation as God's Waiting Room and turned itself into the antithesis – a mecca for craft beer aficionados. In 2013, St Pete didn't have a single microbrewery under its belt. Today, it has some of the most awarded and unique microbreweries in the US.
Though I am far more knowledgable about wine and spirits, a month-long craft beer exploration of St Pete turned me into a fully-fledged artisanal beer fan. No matter how much time you have to spend in the city, a DIY Craft Beer Tour (you can Uber/Lyft from brewery to brewery for next to nothing) deserves a spot on your itinerary. Especially for stops at my two favourites:
Green Bench Brewing Company
Green Bench hold the crown as St. Pete's first craft microbrewery and – in the words of many locals – still the best. The "magic happens" in their fifteen-barrel brewhouse, seen through their Tasting Room's observation window, while the locals create magical moments of their own in their Beer Garden and Patio. Simply put, Green Bench is good vibes exemplified. The multi-US Open Beer Chmpionship winners have created an accessible place for nights out, film screenings, weddings, and business meetings alike. As well as a crisp Saison de Banc Vert of peppercorn-sprinkled farmhouse perfection. It's something special.
3 Daughters
3 Daughters' story might be the closest thing to romance as craft beer will ever get; the owner – Mike Harting – was working with his Head Brewer (and former Head Chef) on a beer-battered fish recipe in their former restaurant and realised their hand-crafted brews were much more than fish casing-worthy.
Three young ladies' college funds building and a few years later, "3D" is the pride of the community. The brewery has multiple bar and warehouse areas for general gameplay (Ping Pong, board games, giant Connect Four, darts, et al), events, and happy beer-filled experiences to suit anyone's tastes. From one visit to another, I enjoyed kicking a few college guys' asses at life-sized Jenga and a vinyasa yoga class (as the brewery production line tinkered away in the background).
With a new customer-loved Key Lime Cider and in-bar Quality Assurance lab (open to students of The Brewing Arts Program offered By USF), 3 Daughters gives as much – if not more – than it gets. I could not rave about them enough.
(They even keep their first investor-presented six-pack – now worth millions – in pride of place above the main bar area).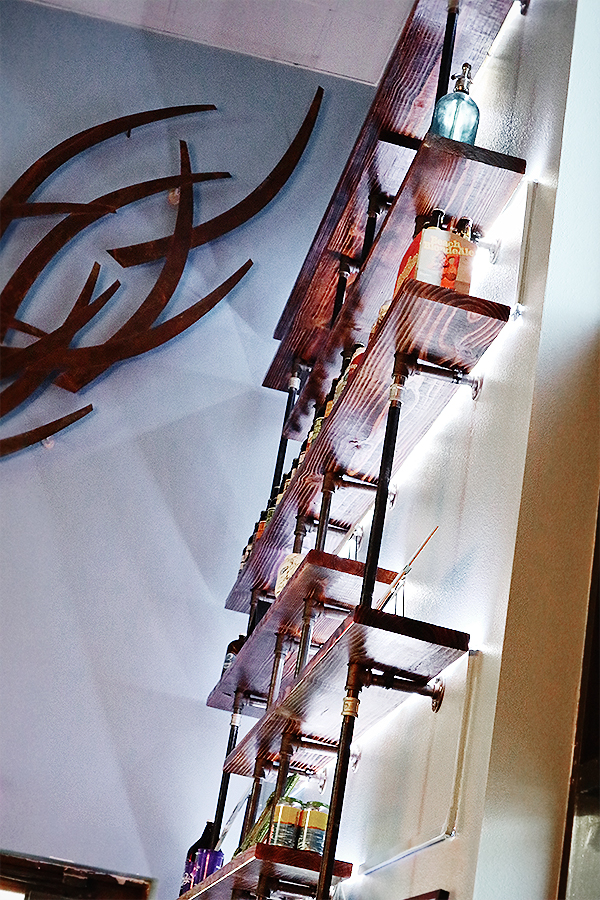 St John's Pass Like a Local
Hubbards offer a perfect little bridge between tourism and local fun with their nightly sunset cruise. Leaving from Madeira Beach's historic John's Pass, the boat tour sails you past numerous sun-drenched sights (and mansion porn aplenty) all the way down to the tip of St Pete Beach. With free beer, wine, tunes, and just enough "tour" to make you feel like you've done more than get drunk on a beautiful boat ride, it is worth every penny.
Where to eat in St Pete
The food scene in St Pete is unbelievable. I had more than my fair share of great food experiences last time, but more recent reviews of Sea Salt, Z Grille, and many more (to come!) have solidified it as one of my favourite foodie cities in America.
Eat your way through every St Pete day or live to regret it. For serious.
(And if all this still wasn't enough, you can look forward to the full vlog adventure – only a few short blogs away!)