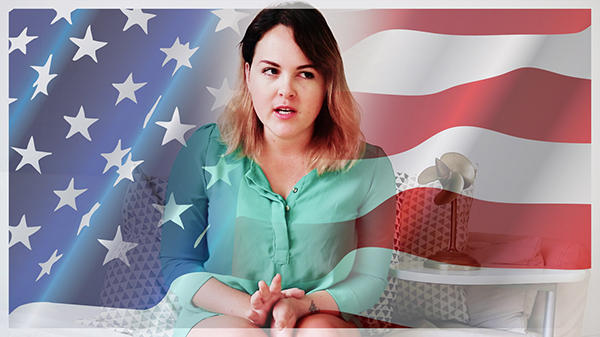 New video and news-centered vlog series, What's Going On, recaps the last six months of life with Donald Trump as President (and what you can do about it). Click here to watch!

Transcript:
Hello, tribe! I've decided to create a new series. It's called What's Going On, as the title suggests, and it aims to delve a little bit deeper into the news and issues that a lot of us are feeling overwhelmed by, maybe don't understand fully, and feel like we may need to do something about.
Naturally, Trump was an easy introduction. He has just finished his 6th month as President of the United States, and I'm got some interesting facts for you about what he's been up to in that time.
I actually found a report that counted the 830 lies he's told publicly and the 44 times he's claimed Obamacare is 'dead' when in fact it is very much alive and letting other people without alternative options stay alive. He's spent almost two months on Trump properties and over a month at golf properties. Which I suppose leaves him 3 months of potential actual government work?
But it doesn't stop there, Trump has talked repetitively about his upcoming quote "biggest tax cuts in American history" without releasing a single suggestive plan…or semblance of a plan, he's talked al lot about the `democratic party "making up the Russia thing", because that's how 5 year olds handle being caught doing something wrong.
Oh! He's also not built that wall he talked so much about being the very first thing he was going to do as president. He DID get Congress to agree to spend $1.6 billion to secure 74 miles along the U.S.-Mexico border, though. You know, US Congress…not the Mexican money we were promised would build said wall…our fellow Americans' money.
In June, President Trump – leader of the world's second-largest source of climate pollution – announced that the U.S. would also pull out of the Paris climate agreement. For alleged economic reasons that every economic expert disputes. Which doesn't even really matter when we're all global warmed to mashed potatoes, I suppose.
If you remember, he also approved the Dakota Access Pipeline project and cleared the way for construction of the Keystone XL oil pipeline from Canada. He actually rolled back around two dozen environmental rules and regulations in his first 100 days alone. Gotta make those pesos.
What else is new…oh, hisealth care "reform" – or lack thereof – has collapsed. He's banned transgender people from the military, a shocking and hateful decision, in my mind, delivered to distract the everyman from said health care collapse.
Behind the scenes, he's even still aggressively pursuing a travel ban for Muslim-majority countries and refugees. Which is still on pause from its initial introduction while federal courts decide if it's unconstitutional.
We've got to ask why, right? To try and make sense of this?
Truly, there is a lot of egomaniacal and commercial benefit for him and fellow corrupt politicians. Ugh, I still can't handle calling him a politician.
Donald Trump is a wrecking ball, but I'm not here to villainize someone I truly believe isn't smart enough to understand the repercussions of their actions. Trump's win had a lot to do with his administration: his appointment of Pence, his cahoots with the string-pullers of team Cruz…his administration is far more threatening because they've commissioned Trump as the only wolf in wolf's clothing. We have to resist more than a man. We have to resist the hate masquerading as freedom. Politically.
Think of the women's march. There are plenty of opportunities to actively resists. E-mail your senators your interests and issues (that's a thing you can do and you can get all the information you need to do so with a quick Google).
We have to encourage Trump (and his administration) to continue to tweak Obamacare, not defund it. We need to peacefully protest whenever we can. We need to get involved in local government – that is where a lot of these changes are implemented and therefore, prevented. And we don't have to all be senators. We can be state representatives, get involved in city council, school boards, specific causes (like local, actionable organizations for reproductive rights). You can find all the information you need with a quick search but if you'd like a helping hand, just shoot me a comment with any questions! I would to help and love to hear your thoughts and experiences converning the last 6 months in Trumpland.
Also, if you want me to cover any other topic and help break this crazy world down for you I am more than open to your suggestions.
Otherwise, give this video a thumbs up if you've liked it, share with your friends on social, and subscribe for further videos. Thank you and bisous bisous.