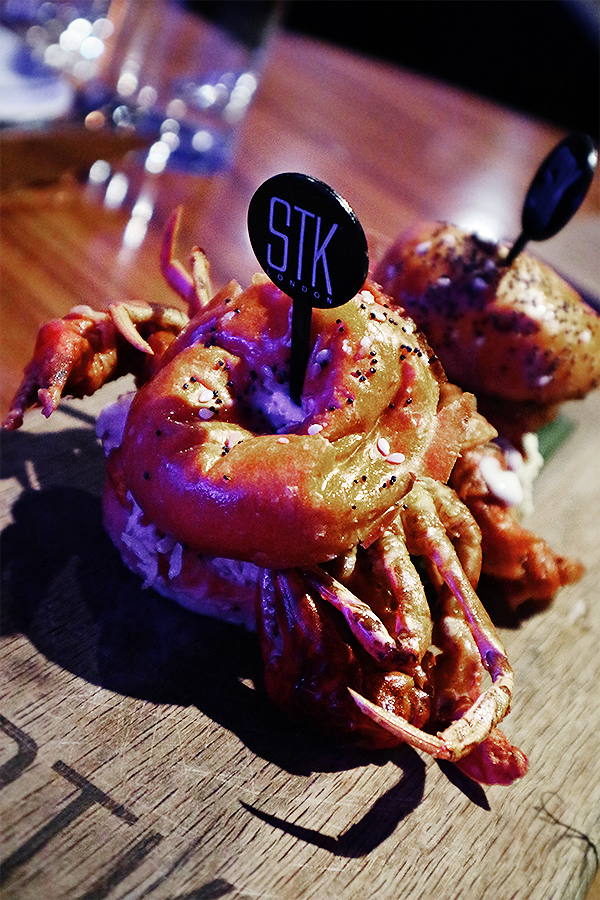 Worldwide, STK offers an ambience not entirely dissimilar to that of a first-class airport lounge filled with party-going unicorns.
Or so I'd imagine.
The purple LED walls, the rambunctious international clientele, the nightclub-worthy booths…it is just all so undeniably extra.
It was an organic choice for one of our city's most celebrated beauty brands to collaborate with STK's London outpost to launch their latest product.
The long-awaited arrival of Ciaté's Glitter Flip – an immovable and sparkle-packed matte lipstick – encouraged a partnership of glitter-topped cocktails and desserts with the modern steakhouse.
After being greeted by the manager (not a food writer privilege but a valued facet of the brand's flawless service), I read through the menu at the speed of a paradoxical turtle. Though a rare fillet was the inevitable choice for an evening of carnivorous fork-waggling, STK's smaller seafood options were too enticing to go unordered.
To soak up some of the Ciaté Glittertini (a grapefruit, orange sanguine and passionfruit bitter concoction housed in a glitter-rimmed martini glass – conceivably created for Instagram alone), we started with wasabi remoulade-filled soft shell crab sliders (heightened to genuine perfection with pickled ginger) and sesame-seeded tuna tataki plated with wasabi and an avocado & dashi salad.
Decidedly focused on rare fillets from then on, my date opted for his steak pepper-crusted in a peppercorn sauce while my smaller version came beneath an indulgent duck egg and light flashes of Béarnaise. Both were, requisite of eponynimity, high quality but a tad too expensive to give the likes of Goodman any sleepless nights.
The best of the mains, surprisingly, took the form of a shared citrus marinated Burratina salad with smoked aubergine puree, heirloom tomatoes, and olives.
But you guys know how I feel about ye olde mozzarella pouches.
Full beyond any dessert requirement, we couldn't leave without sampling the trio of Ciaté Glitter Cones (glamorously designed homemade rhubarb ice cream cones) and gargantuan crème brulee.
As the old adage goes; when in first class unicorn lounges…
(Until September 29th, guests who order the specially created Ciaté Glitter Cones or a Ciaté Glittertini cocktail at STK London – from Monday to Friday – will be treated to a complimentary full size sample of the Glitter Flip liquid lipstick in Fortune, a £10 Ciaté voucher, a 20% STK London voucher, and a mini bottle of Belvedere vodka.)