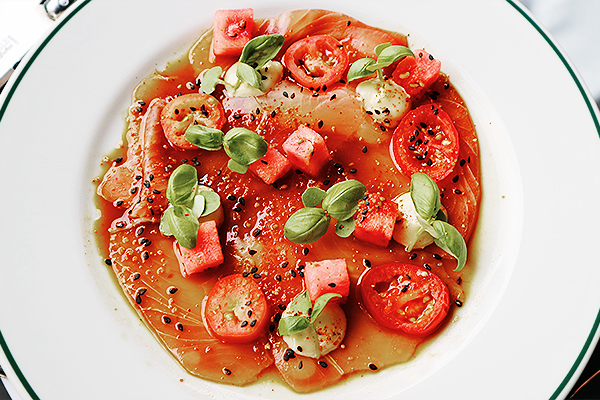 Unlike the famed Covent Garden original, The Ivy's new Tower Bridge restaurant is tempered, brasserie-style rendering of all that the holding company have earned their reputation on; notoriously attentive service, beautifully British comfort food, and an arguably more fetching
potpourri of patrons.
Determined to put the restaurant through its paces on opening night, my dinner date and I headed for the south side of Tower Bridge and settled into their undeniably handsome new digs for a fully-fledged menu investigation.
Perusing the selection over chilli, coriander and lemon-sprinkled Gordal olives and Prosecco, we eventually decided on Atlantic sea scallops (with pea purée, broad beans, lemon zest,
sea cress & crispy shallots) and Yellowfin tuna carpaccio (with tomato, watermelon, ponzu dressing, miso mayonnaise & toasted sesame for less than £10 – an absolute steal for both the quality and area).
Diving further into their moreish Yellowfin offering, I then opted for their seared and sesame crusted fillet (with shaved fennel, edamame, wasabi sauce and daikon cress) while my date gushed over her 7oz grass-fed English steak; a covetable border to truffle & parmesan chips, green beans & roasted almonds, and Béarnaise (natch).
As the evening chill approached, we wrapped ourselves in the alfresco terrace's complimentary blankets and ate dessert (crème brûlée and frozen berries) as a stunt aerialist bathed herself in a sea of Tower Bridge-ogling tourists beside us.
Before this meal, The Ivy has felt – dare I say it – predictable to me. Tower Bridge is exactly what the brand needed to shake things up and get a new generation of London-loving foodies through the door.