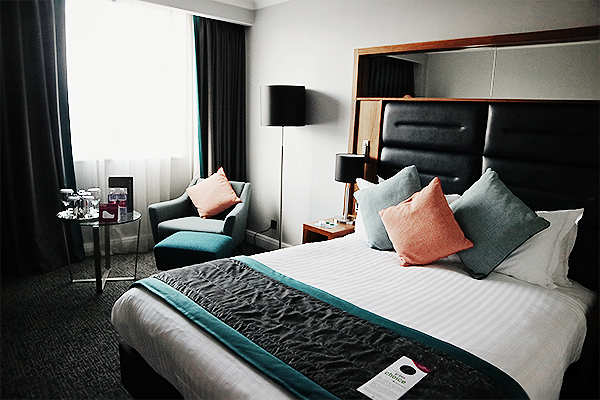 This year, The Times voted Leeds the number one cultural place to live in Britain above London, Manchester, Brighton, et-personal-al.
Though I hadn't been back for almost two years, the year I spent living in the city centre left a lasting impression on me. The food, drink, and people are – in my opinion – second to almost none.
When asked to return to the city for work, I couldn't help but turn business into pleasure and book myself in for a little staycation.
The second I booked in at the Crowne Plaza Leeds, I felt I was home.
Though the 135-room hotel is far from small, the high (and noticeably Northern) level or service made the stay feel rather intimate.
Arriving before our room was ready, we were welcomed into their beautiful club lounge (part of their recent £4.5 million refurbishment and a special hideaway for those in executive suites) for refreshments before being taken to our insanely affordable little suite.
After a few hours in bed (the novelty will never wear off), we headed out to luxuriate in Leeds' electric landscape. The hotel is within walking distance of the First Direct Leeds Arena, Headingley Cricket Ground, Kirkstall Abbey, and my forever-beloved street food kitchen at Trinity Leeds – to name but a few.
We were out too long to get acquainted with the hotel's Spirit Health and Leisure Club but I have already earmarked a full morning to enjoy the large indoor heated swimming pool, gym, and spa during our inevitable follow-up visit.
From king-sized bed to rainfall shower, I developed a hell of an appetite for breakfast so booked it for the hotel's Bar & Kitchen @ LS1 for a locally-sourced Full English.
Or, as the bridal party across from us kept cooing, a "bloody grand Full Yorkshire".
Not an attribution too different from the Crowne Plaza itself.
Virus-free. www.avg.com