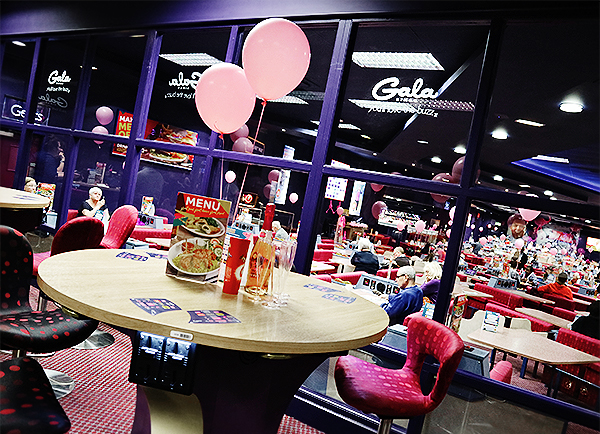 As I watched a group of bodycon-clad women pose in front of a photo booth and a table of my friends chasing mozzarella sticks with surprisingly good wine, I could hardly believe I was at Gala Bingo.
Until last month, I hadn't so much as stepped foot in a bingo hall. Now I was spending my all- important Friday night in one.
Being the lifelong 'Yes Woman' I am, I didn't expect much more than an activity checked off my unfulfillable bucket list. Yet – as blog posts dictate – found myself pleasantly surprised.
A few hours before I touted my blow-up flamingo across London (don't worry – we'll get there), I entered Gala Stratford with a small group of fellow bingo virgins and fell down the rabbit hole of square-stamping thrills.
With preconceived notions of old men falling asleep on stacks of bingo sheets throughout Britain's disused town halls, Gala surprised me.
The launch of their new and improved game is spread across 14 pages (instead of 11, gives players more of a chance to win, and has jackpots of £20,000.
Knowing it was our first time, the host spent extra time with us to show us around the gargantuan club, set us up at a birds-eye view table in the bar, and explained how things work in the unpredictably intense world of number-shouting brain games.
I can honestly say we had the time of our lives.
With no fortune to speak of at the game's break, we ordered a selection of the menu's simple but classic dishes and enjoyed them through the second half of our hilariously poor efforts.
Filled with competitive adrenaline, the night continued with a decent photo booth session, lots of laughs, and many a dance with blow-up flamingo props the manager decided to offer us in pity.
Win or lose, I can categorically say I had more fun at Gala than I've had in some of London's most sought after clubs.
And is anyone with a blow-up flamingo really a loser?