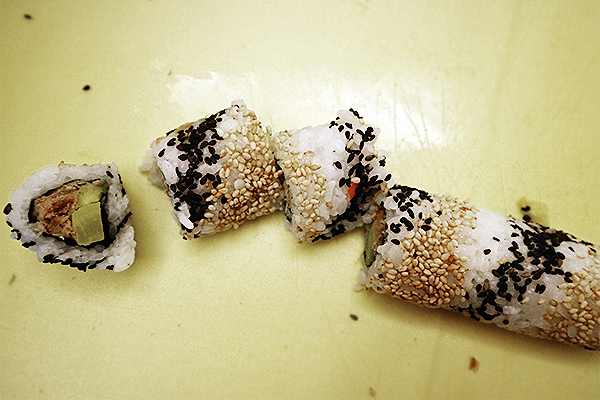 After four hours of OCD disquietude, my naive 'how to make sushi' Google sinkhole resulted in force-feeding my frustrated and starving eighteen-year-old self a bowl of hard rice, unripe avocado and inconceivably expensive Ahi.
It foreshadowed a decade of failed sushi attempts.
I took sushi for granted from my very first mouthful of maki; the demanding rice recipe process, the art of the roll, the balance of flavours. Sushi is, unequivocally, an art. Then Hashi Cooking changed everything.
Owner and teacher Reiko Hashimoto is not only the first Japanese chef to teach sushi in the UK but has been doing so for 17 years in London. If anyone could turn my incompetence around, it would be her.
With desperately low expectations for myself, I headed to The Club at The Ivy for one final attempt at successful wok and rolling.
For the afternoon, Reiko was joined by Oliver Hilton Johnson (sake educator and director of Tengu sake) and 19 other sushi chefs in the making.
To make a long story short, I can genuinely make sushi now. I know the tips. I know the tricks. I know the tactics and I understand them in a way my previously fruitless Googles couldn't teach me. I can inside out roll, create beautiful omelette nigiri and sake pair my creations to perfection.
I even left with enough sushi to gift a friend for his birthday.
If you have ever considered a crack at the fine art, Hashi may be just what you've been looking for.