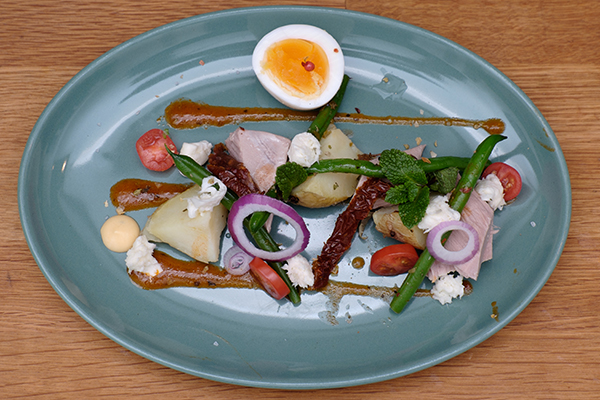 The unlikely string linking a decade of dinner parties? The hysterically diverse threads I've worn to each of them.
When I'm fortunate enough to be invited to a friend's, I go all out; sparkles, heels, and a bottle to match.
When I throw my own, I tend to go all…well…in; a onesie, an empty bottle, and the closest thing to a smile I can muster after having compulsive meltdown in the kitchen.
I am the keenest of home chefs. And I love hosting. But the combination can be a nightmare for a perfectionist.
Discovering La Belle Assiette was a game-changer.
The service offers Londoners a choice of affordable private chefs for any and all culinary needs; dinner parties, romantic surprises, birthdays, et al.
It sounded like the ideal exploit for catching up with friends after the holidays.
After long days at work, five of my most discerning foodie amigos arrived to an out-and-out feast without so much as a consideration to what they might want to eat that night.
Chef Ali, who arrived two hours prior to prepare his menu, curated a four-course banquet of dining room dreams; a herbed chicken amuse bouche (with shaved parmesan, sherry vinegar anchovies, parmesan croutons & a caesar dressing), wild tuna Salade niçoise (with soft-boiled eggs, served with English new season potatoes, green beans, heritage tomatoes, red onions & wild rocket), chicken stuffed with smoked tomatoes & goat's cheese (with beetroot puree, smoked garlic, crispy mint fondant potatoes, roasted baby onions, carrots, Himalayan salt, &jus), and a white & dark chocolate tart with peppermint cream & fresh berry confit.
It was a roaring success.
With nothing to deliberate beyond which wine we wanted with each course, La Belle Assiette truly put the party in dinner party. Right the way through to the discovery of a spotless kitchen (with zero washing-up!) after the world's most mutinous game of Monopoly.
The entertainment, of course, is rather deliciously left up to you and the merriment of your tribe.
I would live the entire evening again in a heartbeat. For the opportunity to crack out every thread of sparkle in my wardrobe, alone.