I'm about to reveal the best margarita in London, y'all. Strap in.
This is a story about a woman (hey, there) who did all the ground work so your liver doesn't have to.
Well, myself, Margarita Rumble, and Jose Cuervo.
The Rumble, now in its second year, is a day-long competition where expert mixologists from each respective city cocktail their way to claim prestige as creator's of the Best Margarita. And the world's number one tequila announced they would be sponsoring London's grand ole fiesta. I could hardly miss out.
In three sessions, margarita lovers enjoyed two hours of bottomless 100% agave Jose Cuervo Tradicional-filled margaritas from the likes of Trapeze, Barrio Bars, Cabana Brixton, Whistling Shop, Benitos Hat, Little Bat, Eaton Square Bar, Zebrano, Simmons, The BootLegger, and title-defending Café Pacifico.
The space turned into a magical melee of margs. One with roasted pineapple and jalapeno puree, vanilla, and garnishes of pineapple crisps & candied jalapenos. One with rhubarb. One with Aperol foam. One flower-accented tipple spritzed with Laphroaig to finish.
Yet, after all votes were cast, Café Pacifico deservedly took the crown for the second year with a fruit-packed margarita; sweet and spicy rim, pipette-injected tequila watermelon, fragrant finishing spray, and all.
Realistically, when would Cuervo two-ways not get the gold?
'Til next year!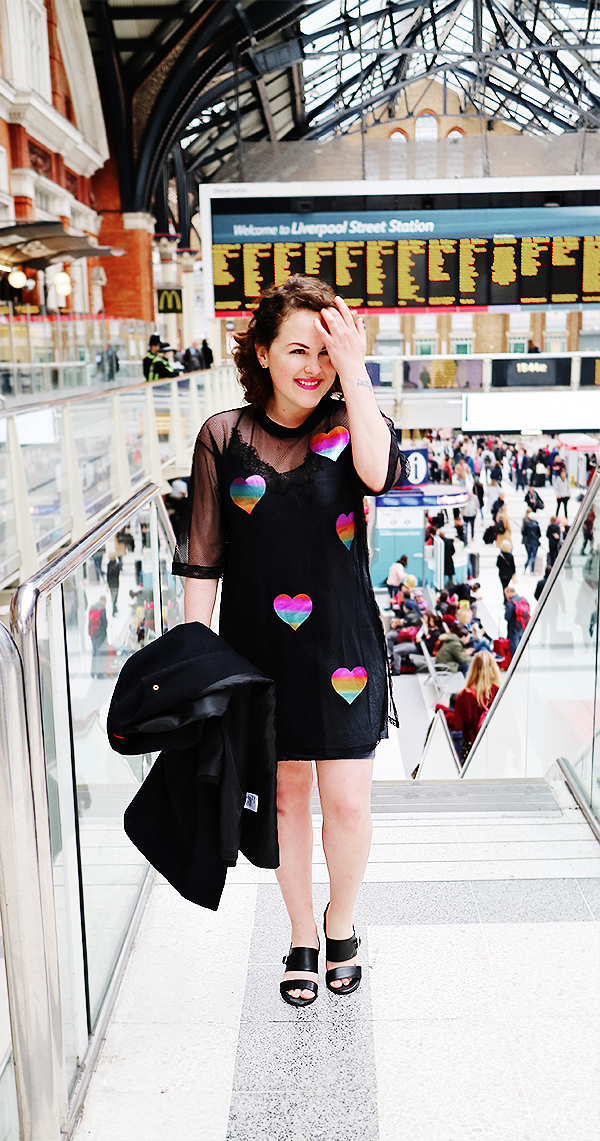 What I Wore:
Mad 4 Mesh heart dress from Cute Mistake (from their new Topshop pop-up!)
Black lace slip (old, similar here)
Black cape (vintage, similar here)
Black sandals from DKNY (new version, here)