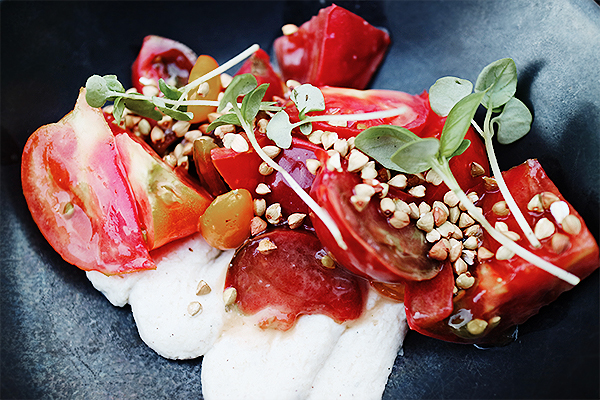 It sounds like the start of a terrible pun; two chefs walk into a shipping container and – spoiler alert – walk out with the best small plates I've had all year.
Alas, it's the non-pun Smoke & Salt have made a reality. The micro-sized shipping container restaurant is the culinary chief of its POP Brixton neighbours, serving seasonal British small plates with an emphasis on smoking, curing and preserving.
From the arrival of their Old Post Office Bakery sourdough and smoky whipped butter I knew I wanted to try more than their absurdly affordable seven-course tasting menu (most gluttonous sentence ever?), so opted for a few suggestions from the owners and settled in for a treat.
Negroni Blanco in hand, I set into the roe deer tartare (with smoked gooseberries, rapeseed, and sorrels) to start, followed by a plate of tomatoes, smoked ricotta, whey, and toasted buckwheat.
Both dishes were undeniable unusual, yet phenomenally balanced. And the perfect amount for two people to share.
We moved on to new potatoes with beef heart (heightened with chimichurri and gorgonzola),
chalkstream trout (dressed with the most intensely delicious raspberry/chipotle concoction), chicken schnitzel (underwhelming compared to the other dishes, yet better than others I've had and a last-minute substitute for their typical veal schnitzel), and thick grilled chorizo (paired with aubergine and an exquisite burnt lemon mostada).
As the sun set, I watched an eager queue build up for late dinner reservations and smiled to myself. It has been quite some time since I've felt this excited to see what a new kid on the block does next.
Smoke & Salt is what London's foodie underbelly is all about.