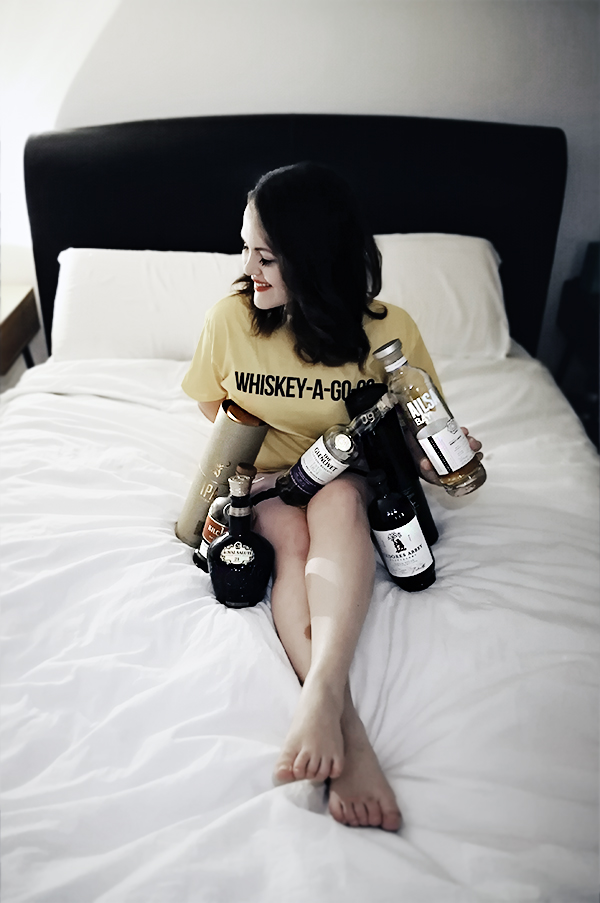 Without much thought or effort, I've become the go-to girl for whisky recommendations in my social circles. So much so I have had thirsty friends both savvy and curious beg me for a definitive whisky guide.
The trouble is, I fall in love with something new more often than I will ever get through a bottle. My partner and I's personal collection alone is thirty-one bottles strong.
Nonetheless, I know my way around a whisky cabinet and feel that knowledge is worth a share. Lo and behold, my 2019 Whisky Wishlist: the best to gift, bring, quaff and mix.
Tumblers at the ready…

The Best Whiskies to Gift
For the Whisky Lover
Royal Salute 21 Year Old Gift Pack, £160
The Royal Salute 21 Year Old Masquerade Ball Festive Gift Pack – inspired by the famed royal Masquerade Balls held at the Ranelagh Pleasure Gardens in London – features the brand's crown jewel (an exceptionally crafted 21 Year Old whisky) alongside a miniature version for collectors.
Fans will know Royal Salute was first created as a gift for the Coronation in 1953 making the whisky, quite literally, a gift fit for a queen.
Octomore 9.3, £175
This is, unfortunately, my favourite whisky of 2018. Though I've had phenomenal whiskies at lower price points, this liquid wildfire more than deserves its price point.
The Octomore 9.3 is loaded with salty peat, malted barley, aromas of smoked tea and – somehow – evokes the same physical delight I felt the first time I burned golden syrup.
Starward 10th, £79 from 31Dover
Australian whisky was the last thing I cared about until I discovered Starward's 10th anniversary offering.
The bold single malt was made using whisky drawn from eight cask varieties and the result is fruit-filled (think dried figs & dates), spicy and finishes with a hell of a lot of caramelised oak.
The teeny tiny distillery make unexpected use of Aussie-wine casks (especially ex-Apera) and have even experimented with a ginger beer cask edition. I cannot wait to see what they do next.
Hibiki Harmony, £62
This is the kind of book you want to judge by its cover. The light amber Japanese beauty is one of the most elegant whiskies I've tasted; there is an abundance of apricot, cinnamon and a slight barrel char that play against each other to perfection.
In my mind, Hibiki is one of the best bottles one could use to entice a cocktail lover towards whisky. Unique notes of lychee and rose surprise everyone I've poured a dram for and I couldn't have a whisky cabinet without it.
The Best Whiskies to Bring
Whiskies With A Story
Ailsa Bay, £55
Spoiler alert: this whisky will disappear as fast as you can open it. And it is far more than its honeyed, super-peated drams (which, bizarrely, always leaves me craving maple bacon).
Ailsa Bay stands out from the crowd for a number of reasons. It is the only whisky to undergo 'micro maturation' (aka a new spirit is first aged in small bourbon casks for six to nine months to spur rapid, intense maturation) and the bottle itself not only displays its PPM (Phenol Parts per Million) but its SPPM (Sweet Parts Per Million) – the latter of which is a revolutionary method for measuring a whisky's sweetness.
Glenfiddich IPA Experiment, £40
I thought I was going to hate this. I love my Glenfiddich. I love my India Pale Ales. The combination, however, seemed a man-bunned step too far.
In reality, the first experiment of its kind has resulted in presumably freak results. The IPA Experiment – now forever the first single malt scotch finished in IPA craft beer casks – is chock full of green apple, vanilla, and fresh hops. Like a decadent woodland brunch in a glass – and far silkier than you'd imagine.
Aqua Vitae, £40
Let's be quite clear – this is a spirit, not a whisky. But it's managed to fool most people I've taste-tasted it with.
Aqua Vitae is a new spirit from Lindores Abbey in Fife, where the origins of single malt whisky first began in 1494. We're talking origin authenticity here, in all senses. It is complex and warm (plums and pineapple aplenty) with a light herbal finish that works beautifully both straight and cocktailed.
The Best Whiskies to Quaff
Fireside Whiskies For The Family
Glenlivet Captain's Reserve, £46
This is not your typical Glenlivet. For this go-round the Speyside Single Malt has been selectively finished in high-quality Cognac casks and the flavour is, well, rich AF.
After maturing in bourbon and sherry casks, the signature Glen-creaminess is hiked by a minimum of six months in casks of classic cognac sweetness. It is all rather luscious and moreish.
Ardbeg An Oa, £48
This Ardbeg is a total wildcard. The notes range from butterscotch to tobacco leaf and it might just be one of the most widely appreciated quaffers around.
The An Oa, in spite of its general peat, also has a number of unique citrus notes. I, personally, taste a lot of lime but my partner always mentions a hit of orange. It's an unusual Islay but one you won't want to move on from.
Adnams Rye, £40
I figured I should pencil in a rye or two to cater to everyone's preferences and Adnams is as rye as it gets.
While there is a tonne of cinnamon, vanilla and orange peel on the nose, the palate is far drier. It's all cereals, coffee and fudge post-taste – just as you'd expect after five years in brand new French oak barrels.
Old Ballantruan 'The Peated Malt', £35
Unusually, this Speyside whisky is an absolute peat monster. With this single malt, the Tomintoul Distillery brought a mass of mezcal trademarks to the table – clay, smoke, mint and metal reign supreme.
Of the – perhaps hundreds of – whiskies I tried last year, it also has the most direct palate to finish transition. It is neither subtle nor overwhelming – just explosively worthwhile.
The Best Whiskies to Mix
For Cocktail Parties and Beyond
Yellowstone Select Bourbon, £48
Yellowstone's Select Bourbon is my Old Fashioned bourbon of the moment, due – in large part – to its complexity. While I find many bourbons too sweet or simple, Yellowstone Select takes you on a journey. Spiced bananas foster. A nut-covered fruit danish.
It is a warm bourbon. The kind you'd sip on a porch with your grandparents and the one I'll continue to reach for first when I feel like cracking out the bitters.
Inchmoan 12 Year Old, £39
The Inchmoan 12 Year is a marmite whisky in many respects. While I love the nose (think burnt wood and mint), there is a slight medicinal quality to its peat that stops me reaching for it when I'm in the mood for a dram or two.
It does, however, have an extraordinarily long and toffee-d finish which works brilliantly in complex cocktails. Likely the result of ageing in a mix of recharred American oak and refill bourbon, American oak barrels. There's even a lovely hint of seaweed citrus when combined with simple tonics.
Toki, £30
While I love drinking Suntory's Toki straight, it's also a veritable dream for highball lovers.
It is one of my favourite blends and a real celebration of Japan's most unique drink profiles; perfectly balanced grapefruit, honey, thyme and vanilla Oak.
It is, fortunately, also one of the cheapest whiskies on this list and available in most large supermarkets.