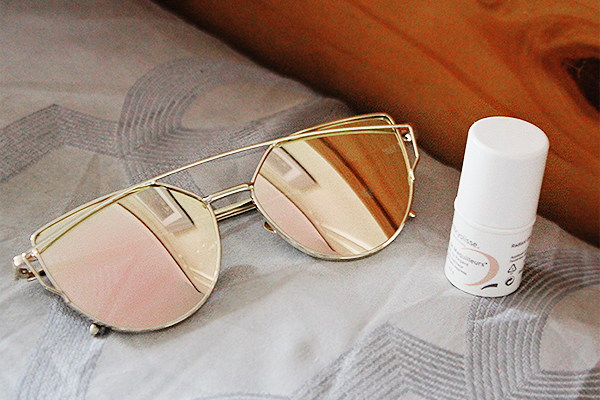 The Belkin Power Pack (from Halfords) – I could kick myself for taking so long to start using a proper power pack. This little golden beauty is lightweight, has two USB ports (meaning anything with a USB plug can be charged with it) and a 2.4A input for 40% faster charging. The pack will charge my phone from empty full three to four times before having to be charged itself, meaning it keeps me connected – Snapchats, Maps, Instagrams, and all – for a day on the go with no hassle or worry. A complete lifesaver.
LG G5 – In Gold. Obviously. I am a fully-fledged LG phone addict (due, in large part, to their exceptional cameras) and couldn't help but upgrade to the G5 Gold when it was released. It is the perfect size (large enough to write on, in a pinch), super sleek, records high quality video (it is what I use to shoot all vlogs), and equips me to run my business from anywhere in the world.
Gold laptop case (similar here) – As I take my Macbook Air everywhere I travel, a little shell protection is necessary. I have battered this one for months on end but it has managed to keep one of my most valuable investments and daily tools safe and unscarred from my adventures.
Gold mirrored sunglasses (here, here, here) – Over the last year or so, my staple sunglasses have been enormous black Tom Ford cat-eyes. Which are fantastic – don't get me wrong – but slightly overwhelming to carry on more adventure-led, less designer-friendly days. As I wear sunglasses almost every day (sensitive eyes), I picked up these gold mirrored sunglasses to ensure any potential breaks or mishaps wouldn't be as traumatic as they would wearing the Fords.
Embryolisse Radiant Eye Cream Roll-On – As you will have seen in my August beauty favourites, I am a big fan of this roll-on lifesaver for tired and puffy eyes. I use it day, night, and every sleepy-eyed time between. Fortunately, it also doesn't count as a liquid product so works as a fantastic carry-on beauty item (even a facial moisturiser, in a pinch!).
The Kipling Superwork – With gold accents, it carries all of the above (and much more!) with incredible ease and style. Though it's not too big to the eye (I use it as a handbag and work bag almost every day), it has enough extendable space and compartments to carry a weekend's worth of packing. An essential for the equipment-heavy entrepreneur.