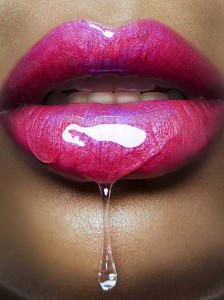 As stunning as it is to have a face full of runaway, wet pigments – we all tend to look a little bit better if we go for an aesthetic a bit more polished and a bit less Courtney Love. Summer weather means we may have to add a step or two to a daily routine to keep things from mindlessly shifting across our faces. Let's face it, tinted moisturizers and lipbalms won't be a sufficient replacement for the Glamourpuss' relationship with their favourite MAC eyeshadow or DiorShow.
Eyes:
Switch out your mascara for something waterproof. They typically can't provide the nourishment of non-waterproof mascaras so it's a great idea to rub a small amount of shea butter or a similar moisturizer on your lashes beforehand.
Lips:
Fill your full lip in with a lipliner. Whatever the colour is you want to show, a matching shade will be available in stick-form. Avoid the scary outlines and get it as close as possible to your lipstick/gloss/balm of choice – the adherance it provides will save you the hourly re-applications.
Primers:
This is esentially where you can't go wrong. There are primers for everything you can think of – face, eyes, lips – specifically designed to remain best friends with whatever you apply afterwards. Concealer works as a great swap for primers if you find yourself without.
Hairspray:
Turns out it's not just for hair! While it's a somewhat unorthodox practice, spraying a light coat over your finished face will keep everything from budging. Just promise not to breathe in while spraying.
Besos,
Lela