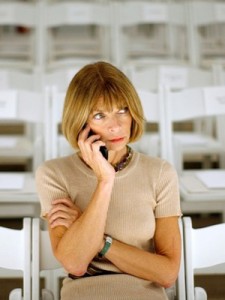 Anna Wintour was recently interviewed by Humberto Leon and I've compiled some of my favourite answers below.
HL: Ignoring budget and logistics, can you describe your fantasy FNO?
AW: Looking at the impressive lineup for this year, I think we are already seeing the fantasy being played out in reality.

HL: What is a change you've seen in the fashion industry since the first FNO?
AW: I believe consumer confidence is being restored. People are out there shopping again without the level of guilt or concern of the previous year. Also, it's built community amongst designers and retailers, both competitors and otherwise, and brought together all aspects of American culture and arts, which is an exciting aspect in and of itself. It's a time of the year when fashion cities around the world are united in a cause, which is wonderful.

HL: How do you think fashion blogs have affected magazine content?
AW: Like any evolution in the industry, they force you to become better at what you do. Vogue's in-depth articles and beautiful fashion stories, along with coverage of the arts within a fashion context, is not something that exists in the same way on blogs. They force us to dig deeper for stories, but we're not competitors; we serve different markets.

HL: Your first Vogue cover featured jeans paired with a Christian Lacroix jacket. How did this idea, which was so revolutionary at the time, come about? Do you still take inspiration from youth culture? Is there anything happening in street style that you find interesting?
AW: It was first and foremost a translation of a European aesthetic for the American consumer. It brought couture to the street and streetwear into Vogue during the era of Madonna's Like A Prayer. It was also a recognition of the importance of personal style in fashion, which has played a role in Vogue ever since.

HL: What is your favorite store in New York that is no longer open?
AW: There was an oculist on Prince Street that had great sunglasses and is sadly now a wine store.

HL: The place you most wish existed in NY?
AW: I love the Place des Vosges and wish there was something like it in New York.

HL: And finally, your favorite hidden spot?
AW: If I told you it wouldn't be hidden!