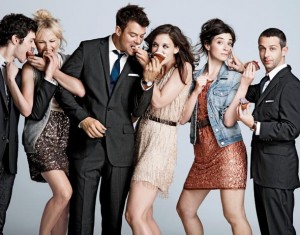 J.Crew gives us a sneak peek at images of Katie Holmes, Josh Duhamel, and their costars in the upcoming film "The Romantics," all decked out in J.Crew party attire.
The looks, drawn from the limited-edition Collection line for Fall 2010, are part of J.Crew's wardrobe contribution to the movie. For the photos, Holmes and Duhamel dance around with Malin Åkerman, Adam Brody, Jeremy Strong, and Rebecca Lawrence.
The missing pieces are True Blood's Anna Paquin, who plays the bride, and Elijah Wood. Yet even without pretty Paquin, the women gleam in a variety of shimmering styles. Åkerman wears a dark bronze sequined miniskirt; Lawrence swings her hips in a short, sunset-colored brocade sheath. Holmes, meanwhile, wears a pale peach dress dripping with beaded fringe – a look that practically begs to go dancing after the rehearsal dinner. (Something tells us that the film's bridesmaids dresses won't be the standard-issue taffeta horrors.)
In typical J.Crew fashion, the dressy duds are juxtaposed by boyish pieces. Åkerman layers on a sweatshirt vest, Lawrence tops her dress with a denim jacket, and Holmes toughens her wispy dress with a dark belt.