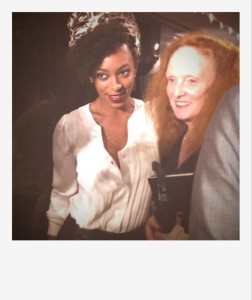 Yes, we know the clothes take center stage at New York Fashion Week, but the celebs perched in the front rows get their fair share of attention, too. After all, they often become brand ambassadors for designer labels, as red-carpet images of them in fancy frocks and elegant ensembles are beamed round the world.
Here are some quotes de la celebrities and fashion notables about spring's newest looks, their fave designers, and top trends. Listen in.
Christina Hendricks. "I have maybe twenty purses and sixty pairs of shoes. [The most extravagant piece of fashion] I ever bought myself was a beautiful bag last week from Chloé," said the "Mad Men" star, adding that as far as nail polishes go, "I'm into that sort of beige-latte color."
Robert Verdi. "Prabal has this very unique version of fashion, that [his customer is] a socialite, she's stylish, she's not necessarily super rich, she's cool, she's hip, she's a little Bohemian. I like that he pushes: A ruffle is really a ruffle. It's big, it's grand."
M.I.A. "I love Alexander Wang leather shorts and his handbags. Not that I use handbags, but when I start using them, those are the ones that I'm going to pull out! Alex custom-made me a pink-piping dress. That's probably my favorite item in my whole wardrobe." As for trends, she says, "I'm excited to wear some of this mint green that's about to come out."
Cynthia Nixon. "[Fall] is the perfect season to pick up something new for the wardrobe. I'm not very knowledgeable about fashion, to be honest. I'm an actress, I'm not a model," Nixon said at the Calvin Klein store on Fashion's NIght Out. "["Sex and the City" costumer] Pat Field dressed us for so many years and put us in the world's most beautiful clothing. It's not what you'd call my area of expertise."
Steven Kolb. "I love Prabal. I think he is a very talented young man," says the CFDA president. "He's not an overnight sensation; he's really put in the time and it's nice to see him emerge and have his own label. He's one of the nicest designers I've ever met. And very unintentionally spiritual about how he approaches his work."
Maggie Gyllenhaal. "The show was great," she says of Alexander Wang. "I have a couple of pieces that I wear; this [black] jacket I have now is Alexander Wang. I wear it all the time."
Ashlee Simpson-Wentz. "I have this black metallic [nail polish] on from Chanel right now, and it's got a little gold hint in it. It's really beautiful!"
Kelly Osbourne. "I love New York Fashion Week, it's my favorite time of year! I missed the [Tommy Hilfiger] show — I was at Elise Overland, and by the time I got back to my hotel room and changed into my dress I was too late! I don't know about trends, but there's a color that I'm loving: It's a pink-beige that I'm seeing a lot, and especially because I'm blonde, I love it."
Kristen Bell. "I'm really into big, nubby sweaters right now because they're so comfortable — and putting jean jackets under sweaters is kind of my new thing."
Alina Cho. "It's the Asian invasion, truly!" the CNN correspondent says of Prabal Gurung. "I just love his story — he came from Nepal because he believed in himself. And the clothes are legitimately great. I have a white-and-black polka-dot dress with a big bow from last season, and I also have a fun feathered party dress. He designs for the modern woman who has to work and then maybe goes out in the evening."
Brad Goreski. "The Michael Bastian peacoat is one of the best things I've seen all week," says the "Rachel Zoe Project" star.
Kimora Lee Simmons. "I loved Custo! It was so fun, so colorful, and the people were so nice. I loved Zac Posen's new line [Z Spoke] — it's very classic, sexy, and a lot of fun. And, of course, I love Tommy. We've been together so long. Tommy is like a family friend."