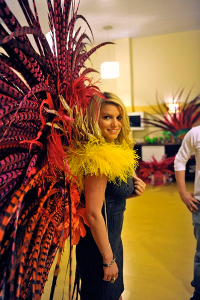 Jessica Simpson is making bank. Retail sales of her fashion empire – currently shoes, accessories, outerwear, bathing suits, fragrance, and watches – totalled $750 million this year. "People look at her as a style icon," explains Vince Camuto, the main licensee for Simpson-sold merchandise.
Fast Facts:
– Jessica Simpson Sportswear and Jeanswear are expected to do from $150 million to $200 million in retail sales within the next two years.
– The Jeanswear collection can be found in 650 department store doors, including Macy's, Dillard's, Belk, and Bon-Ton.
– Six hundred people once lined up to see Simpson make a personal appearance at Belk.
– Simpson's net worth is estimated at $100 million.
– The latest addition to her empire – sportswear – is inspired by Isabel Marant, Theory, and Sportmax, but with a "younger" attitude.
Homegirl is – in at least one category – outperforming even Madonna.