Update 28/06/11:
I have just received an e-mail from Mulberry informing me that the brand does not authorize giveaways that aren't of their own accord. I didn't feel that this would be an issue, but feel that I must respect a brand's values and wishes, so will not continue with the contest.
For anyone who purchased She Said Style based solely on the giveaway, please e-mail me and I will refund you within 24 hours.
When I get the chance, I will aim to host a bigger and better giveaway in it's place! I Everyone who purchases She Said Style from now until then will be entered.
Apologies for any inconvenience, guys!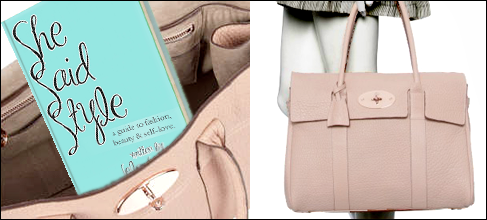 The second I started writing She Said Style, I knew I wanted to give a little something extra back once it was released. I am so, so excited to announce that after months of saving…
I am giving away a Mulberry Bayswater!
The beauty – seen above – is the classiest, roomiest designer bag alive. The structure, hardware (postman's lock!) and lining are all as luxurious as the leather. This is a bag that will look as good – if not better – in fifty years as it does today.
MULBERRY BAYSWATER — GIVEAWAY DETAILS
To enter, you must purchase She Said Style. The e-mail address used to purchase will be checked if the winner is selected through any of the additional entry options.
For additional entries, each step you complete from the list below will earn a giveaway entry (only available to those who purchase She Said Style):
1. Become a fan of Lela London on Facebook (+1 entry).
2. Sign up to Lela London's mailing list (+1 entry).
3. Leave a comment below telling me your favourite chapter of She Said Style (+1 entry).
4. Tweet about the giveaway (+1 entry).
5. Follow Lela London on Twitter (+1 entry).
6. Link to the giveaway through your blog (+1 entry).
Giveaway ends July 25th, 2011 at midnight PST. Open worldwide. If you are under 16, please ask your parents for permission to enter.
Thank you for your support! Fingers crossed!