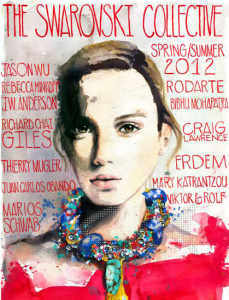 Swarovski has just announced that they will be sponsoring British fashion labels J.W. Anderson, Marios Schwab, Giles Deacon, Erdem, Mary Katrantzou, and Craig Lawrence's Spring/Summer 2012 collections, meaning they will have plenty of Swarovskied garments to present to us. Bibhu Mohapatra, Jason Wu, Juan Carlos Obando, Rebecca Minkoff, Richard Chai, Rodarte, Mugler and Viktor & Rolf also received sponsorship.
Dior just released the latest commercial for their successful fragrance "J'Adore". In it, long-time frontwoman of the brand, Charlize Theron, sneaks incognito into the Versailles Hall of Mirrors for a fashion show that features iconic beauties Marlene Dietrich, Grace Kelly, and Marilyn Monroe (CGIed, obviously). The ad was directed by "Seven Years in Tibet" director Jean-Jacques Annaud, and it is heavenly.


In a speech given at London's Royal Opera House for the Deloitte Ignite Conference, Lanvin designer Alber Elbaz explained:


I don't understand this marathon of fashion. Today, designers are expected to produce work that is bigger, better, faster and – these days – cheaper. A singer can quit once he or she has made ten great songs, a director can finish once he or she has made five amazing films, a writer just needs to write three great books. Now let's look at designers – they produce six to eight shows a year, most designers have a 20-year-long career, so I need to create about 250 collections in that time. Not even Danielle Steel could write 250 books.

15-year-old Tavi Gevinson (essentially the most famous fashion blogger in the world) has launched her much-anticipated new website, Rookie. What was initially a joint venture with Jane Pratt and Say Media is now under Tavi's sole ownership.
Guess what, beautiful Americans? Starting tomorrow, Zara's U.S. e-commerce site is launching with free delivery and exchanges to all 50 states, and all deliveries will come wrapped in eco-friendly packaging. ALSO, if you 'like' Zara on Facebook then click through to the 'Shop Online' section, you'll be invited to a special online shop at 6 p.m. tonight.
Emma Watson's commercial for Lancôme Trésor Midnight Rose has finally been revealed! While I expected more from such a hefty budget and impressive actress, you can't deny 'little' Hermione Granger's beauty.