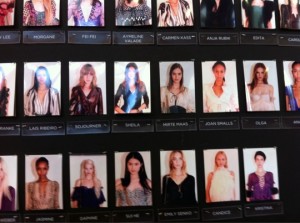 Just as it was last season, Tom Ford's presentation for Spring/Summer 2012 was top secret. We're talking camera-less, tweet-less top secret.
Nonetheless, someone – Candice Swanepoel, allegedly – figured out a way to snap the collection and now the image above is likely to be the closest we get to the collection until 2012. That, and the reviews of a few high-profile attendees:
Hamish Bowles, Vogue: Amongst the hourglass silhouettes and powerfully sensual effects beloved of Ford fans since his work at Gucci in the nineties, there was a thread of Pre-Raphaelite romanticism in embroidered peasant blouses (of the type Matisse loved to paint), and even frothy, Renaissance-sleeved dresses that evoked the work of the great sixties and seventies London designer Ossie Clark.
Cathy Horyn, New York Times: Mr. Ford's show was thoroughly Tom Ford in its sex appeal and silhouette — tigress hair, smoky eyes, glossy lips, taut skirts and strappy high heels. The collection was loaded up with great day clothes, including loosely laced Moroccan blouses, fringed skirts and some simple but gorgeous dresses with ruching or a belt at the waist and a bubbled hem. A number of outfits also had corsets blended into the tone of the blouse. Equally strong were his evening option of slinky black pants—more like a ski pant—with a simple chiffon T-shirt coated with feathers at the front.
Lisa Armstrong, Daily Telegraph: Mesh, marabou, raffia fringing, a candlewick effect which suggested long hours at the hand embroiderers, plaited satin ribbons – these were just some of the techniques applied onto those hourglass silhouettes. Throw in bosoms, cupped in cantilevered chiffon, checks and some snakeskin skirts and it could have all looked a bit much.
Jess Cartner-Morley, The Guardian: I'm going to come straight out with it. Deep breath: I didn't think Tom Ford's show was all that. Not that it was awful, by any means, but despite the beautiful tailoring and the immaculate execution it fell a little flat. It felt too self-referential. Too many frills and too few new ideas. There were gorgeous, curvy, super vamp dresses that I loved, but the flouncy peasant blouses and corset belts seemed like a Guilty Pleasures version of Tom Ford.