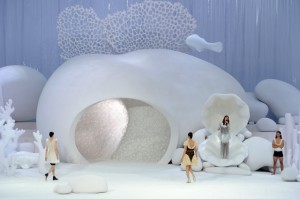 Yes. That is Florence Welch singing "What The Water Gave Me" in a half shell. (No-one ever claimed Karl Lagerfeld was a minimalist).
Playing with a palette that mimicked a sea-soaked set of pastels, Prospero…I mean Lagerfeld…opened Chanel Spring/Summer 2012 with the dark-haired beauty trifecta of Saskia de Brauw, Freja Beha Erichsen and Aymeline Valade.
This season, Uncle Karl was inspired by pieces that have been shaped at the bottom of the ocean by natural processes, taking millions of years to form. There were also about a million (or eighty) looks, combining new fabrics with pearls, lightness, and the lexicon of Chanel heritage. Mille-feuille and tweed for all the mermaids of the world!
Six decades in this business and he is still at the top.