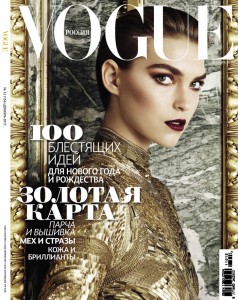 My model crush is getting Vogue covers left and right! For the December 2011 issue of Vogue Russia, Hedi Slimane snapped up one of my favourite photos of Arizona Muse to date (she is also wearing Roberto Cavalli)!

Joseph Altuzarra – the fashion designer behind the eponymous line, Altuzarra – has been announced as the grand prize winner of this year's Council of Fashion Designers/Vogue Fashion Fund! The award includes a friendly $300,000 cash prize, as well as development and mentoring assistance. This year's selection committee were as follows; past Fashion Fund winners — Proenza Schouler's Jack McCollough and Lazaro Hernandez, Anna Wintour (no introduction needed), CFDA president Diane von Furstenberg and CEO Steven Kolb, J. Crew's Jenna Lyons, Theory's Andrew Rosen, and Coach's Reed Krakoff.

After Pringle of Scotland's former creative director – Clare Waight Keller – left the company in March, the arrival of ex-Balenciaga designer Alistair Carr has won the label an £11 million bailout after the company experienced major losses between through 2010 and early 2011.

The New York Times launched an iPad app, The Collection!

Barely an outfit change after Jimmy Choo announced that Tamara Mellon was leaving, new reports are claiming that she is putting things together to launch her own brand, a la Tory Burch or Tom Ford and Tory Burch. Funding for the company is already believed to have been secured.

After Taylor Tomasi Hill decided she was leaving her role as accessories director for Marie Claire and jumping ship to Moda Operandi, a very fabulous position was left open. For all of two seconds. Six years ago, Nina Garcia took a chance on Elle's (now) Senior Accessories Editor, Kyle Anderson, and he is now stepping into Taylor's Marie Claire shoes.

"I think after six years of working in the accessories department at ELLE, now is the right time to move on to a position where I can contribute more to the look of a magazine. And for me, working for Nina Garcia again and Marie Claire is the ideal fit."
I am so excited for him! Kyle is a genius. Congratulations!

Ever wanted to see the kind of work that goes into an Alexander McQueen runway show? Take a peak behind the scenes at Paris Fashion Week for S/S 2012!




Some thieves have very good taste in fashion, it seems. Yesterday, Marc Jacobs' sample collection for Spring/Summer 2012 (we're talking one of a kind), was stolen from a train leaving Paris! As it was on it's way to the London press day, those attending received the following e-mail:

Dear all,The Marc Jacobs PR team is sorry to inform you that our press day tomorrow [a refresher of the clothes that were first shown on the catwalk. What, the models' googly-eyed death stares were distracting, alright?] in the Marc Jacobs store is cancelled, due to the theft of the spring/summer 2012 collections during its transfer from Paris.
What in the world would a thief do with a collection that hasn't been released? Sell it? Caught. Wear it? Caught. (And I'm thinking…"thank god his collection for Louis Vuitton was spared!")