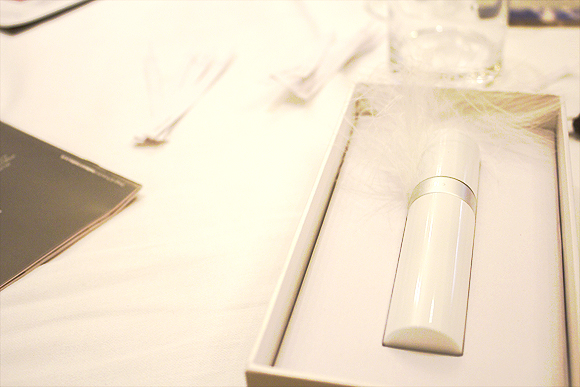 Because I am a little bored of the discounted blow dries and 'sexy photo shoot' offers mailed to me by daily deal sites, the offer of creating my own fragrance (plus afternoon tea) on Buyagift really caught my attention.
Though I work as a beauty editor in part, the last time I experienced anything comparable to designing my own fragrance was a behind the scenes trip I took to the Fragonard factory with my father. I was eleven.
This was a world apart and an experience that even my testosterone-filled Manfriend enjoyed. The course took place yesterday morning in the Hilton Hyde Park Hotel, where a group of 20-25 strangers of all ages were welcomed with champagne. The company which hosts the event, The Perfume Studio, are professional, friendly, and deliver everything you need to know to create your fragrance in an enjoyable and accessible way. Over two hours, everyone gets to sample eighteen blends of (mostly) beautiful scents to blend together an individual perfume or cologne.
You are encouraged to create three piles: blotters that you dislike on the left, blotters that you may want to include in the middle, and blotters you love on the right. I was surprised that I enjoyed a few of the floral blends because I usually find florals to be very – what's the word – aged.
After smelling lots of coffee beans (to clear the nose) and switching my blotters back and forth, I settled on a blend of:
Base notes – balsamic (a sweet – not sugary/vinegaresque – blend, in a double dose)
Middle notes – gentle floral and heady floral
Top notes – green, citrus (double dosed), and fruity
Sealed in a white bottle with a scented feather, "Spritz, Rattle and Roll" (the champagne wit wasn't exactly working for me) was born.
After the session we walked up to the Hilton's gorgeous bar area and indulged in an unusual – but delicious – afternoon tea of finger sandwiches, a scone, a cake, an eclair, and green tea. Far different than my typical experience of afternoon tea in the UK and not a bad excursion on the hottest day of the year.