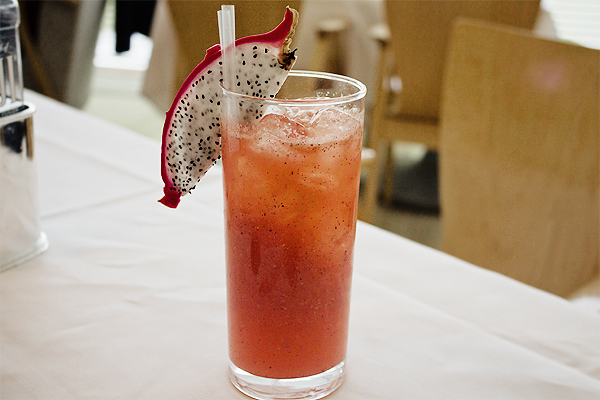 If there is any day my digestive system doesn't deserve a rest, it's the so-called 'Day of Rest'. Sundays in London are absolutely packed with beasts of brunches and lunches of the coolest variety. When I found out that Asia de Cuba at St Martins Lane Hotel had launched their own version, a Dim Sum Brunch, I hightailed it to the restaurant.
All library-meets-Saatchi-Gallery, the modern and bright dining room is brought to life by a Cuban jazz trio that pluck and croon over tables packed with Dragon's Twists (Aba Pisco shaken with fresh lychees, dragon fruit & elderflower liqueur, finished with a dash of ginger beer) and Spiced Mangoes (Chinese pear-infused Sake shaken with fresh mango, homemade chilli, basil sugar & a hint of lime).
With both my lady friend and I's heads feeling worse for wear, we ordered up a delicious and unrealistically-sized storm. The dim sum, as expected, came first. Rankings go a little something like this: 1) lobster chive and coriander shu mai, 2) steamed oxtail and kimchee dumplings, 3) tiger prawn potstickers, and 4) chicken, spring onion, and ginger won tons. I wouldn't say it was the best dim sum I have had in the area (each parcel's skin seemed to have a bit too much flour), but I was quickly distracted and wooed by the arrival of a gloriously fresh ceviche tasting platter. Split into four square sections with enough to share between two, the ceviche taster included:
– GROUPER, SEVILLE ORANGE AND AJI AMARILLO (plusyuzu and horseradish, Thai basil and toasted sesame)
– PRAWN, SNAPPER AND 'CONFIT' WATERMELON (plus Vietnamese red chili, garlic and jalapeño with shaved coconut)
– SCOTTISH SALMON AND SALTED AVOCADO HELADO (plus spicy coconut milk and bird's eye pepper)
– CURRY KINGFISH AND PASSION FRUIT (plus lemon oil, toasted coriander seeds and fried capers, and boniato)
You can't go wrong with a menu like that.
Before dessert (oh yes, there's more!), we ordered two super-Asian mains; an Asian noodle box with sautéed Asian vegetables, rice noodles, mushroom chilli broth, and hoisin sauce, as well as the best salad I have had in recent months. We're talking a spicy seared carpaccio of beef tenderloin with avocado, shredded coconut, orange segments and Asian greens with hot-sour dressing under the unassuming name, "Thai Beef Salad". You have two options: order it or regret you didn't.
Because it's impossibly easy to think you're hungry in hour three of a girly catch-up, we ended our 'brunch' – at dinnertime – with sweet brioche 'Mexican' donuts rolled in cinnamon sugar and filled with butterscotch sauce…a Cuban coffee brownie in a Kahlua glaze, chocolate fudge sauce, and fudge brownie ice cream…and, DEEP BREATH, three house made tropical sorbets.
My suggestion? Skip the dim sum and treat yourself to…everything else on the menu. Keep that digestive system working.