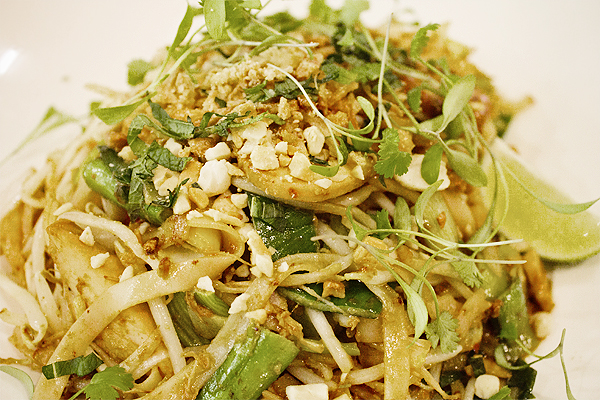 I am not really one for 'fast food'…let alone reviewing it. I have friends who can praise the heavens for a golden french fry or fried chicken, but it's just not my – fried – bag.
I had swept wagamama into the 'fast food' category until seeing their jazzy little Way of Wagamama recipe video (below). I mean…Thai freshness hasn't really delivered in the UK the way it did on the streets of Bangkok, but I was willing to take a chance on my tickled tastebuds.
Fast food/chain-restaurant/mall-food or not, wagamama has my seal of approval.
Kicking things off with a tangy 'Super Green Juice' (apple, mint, celery, lime juice, and a whole lot of healthy), The Manfriend and I ran through their astronomic list of fresh gastro delights and settled on a Chicken Katsu Curry and Prawn + Chicken Pad Thai (obvs), along with some sides.
If kimchi is ever on a menu, I order it on impulse. wagamama's was perfectly spicy with just a slice of the sour fermentation, just the way I like it. To balance the spice we shared a plate of Duck Gyoza which – when paired will their spicy cherry hoi sin sauce – was deliciously moreish (if not a tad pastry-heavy).
Our mains were, unexpectedly, the real winners. The Manfriend's Katsu was completely man-friendly; chicken breast deep-fried in panko breadcrumbs and covered in a honey-tinged curry sauce with sticky white rice, dressed mixed leaves and red pickles (sneaky veggies = my favourite). My own Prawn + Chicken Pad Thai was a perfect blend of lean proteins with ginger, peanuts, garlic, spring onion, red onion, amai sauce, chilli, and lime. Though most of my noodles were left behind (personal taste), the portions were also extremely generous.
The combination of editing these photos and re-watching the video has, in fact, resulted in mad hunger. See you in 10, wagamama.