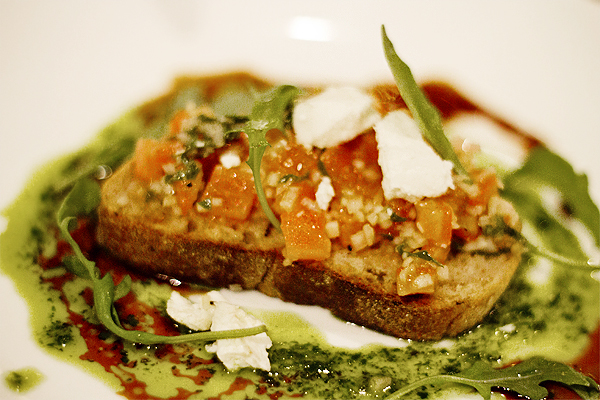 As The Manfriend wasn't much of a foodie before dating me (I think we could safely categorise him as a Food Is Fuel connoisseur), it has always surprised me how much he has raved about Gaucho Leeds.
Though he last ate there for his twenty-first birthday (more than a few moons ago), the restaurant had made a lasting impression on him. Frankly, our trip for Sunday lunch was long overdue.
Lured in by their Late Spring Lunch Menu (two courses for £23 or three courses for £26), we descended their secret staircase into a dark and open miscellany of well-furnished rooms to take our seats.
We were presented with two wine lists; one Argentinian-packed plethora of wines (sparkling and still) as well as a charmingly handwritten selection of rare bottles. Knowing we weren't going to leave without a steak in our systems, I elected a Malbec – a bottle of Domingo Molina Mortero 2010 – to share. This particular Malbec is clean and sharp (the way I prefer my reds) with very pure notes of dark cherry and blackberry, leading into a savoury finish.
It's a freshly baked bread wine. A pea and mint soup wine. A bruschetta of tomato, basil, and goat's cheese wine. (Thankfully, those were our starters.) The bruschetta was presented beautifully and was near perfect, barring a slightly overgrilled base. The pea and mint soup, however, was balanced tastefully and was as moreish as soup can get.
In hot anticipation of our mains (the Spring Menu selections of Spaghetti Provencale and Chicken Milanese had to chance of winning out over steak), our 180g medium-rare rib eyes arrived shortly thereafter. Though each was plated with chips and Béarnaise sauce, the 'sides' almost disappeared when I bit into the steak. I don't often choose rib eye when cooking or ordering steak (it might be its American omnipresence in my childhood), but I would happily pay Gaucho the £26 for this course alone.
We slowly drained the Mortero between business talk, planning of our next (BIG!) visit to Gaucho for celebrations later in the month, and indulgent bites of dessert. The millefeuille with fresh strawberries and shortbread didn't quite live up to the puff pastry versions I have tried in France, but the Manfriend's 'Gaucho Eton Mess' whipped up a smile so big it didn't matter.
From maître d' to our final farewells, service was impeccable and the food – despite a few niggles – was well worth its price. Go, Gaucho.