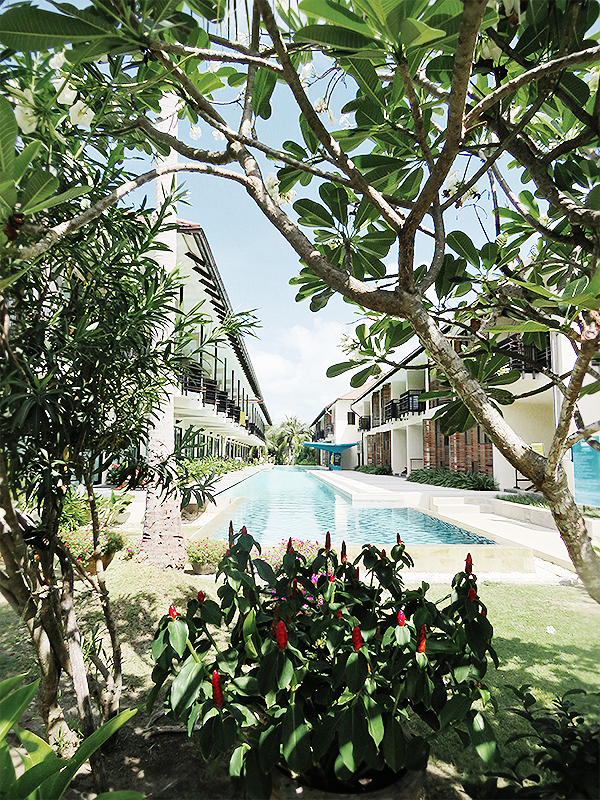 It took me longer than acceptable to choose a place to stay in Koh Samui. In one sense, I didn't want the hotel to cost an arm and a leg. In another, the notion of spending days in huts or tourist towns made me nauseous. I found my perfect middle ground in Centra Coconut Beach.
The hotel is nowhere near as wanky as the name, I swear.
Nestled in the far southwest corner of Taling Ngam, Centra is delightfully secluded. It shares one very long beach with the Conrad, but you won't bump into a single guest for at least 15 minutes. There's not much of anything around the hotel, actually. Besides their own restaurant, bar, spa and gym, the nearest amenity is a 15-minute walk to a Family Mart.
We braved that walk once, stocked up on bizarre Asian snack foods and water, and never returned.
We weren't in Koh Saui to rave. We were there to recharge.
That's the kind of ethos of Centra. Arriving a good six hours before check-in, the staff made special effort to prepare our room and let us get settled in. Happily, the rooms were even nicer than they seemed online. They were clean and spacious with an enormous bed, bath and balcony (all with a view). Best of all? The wi-fi was strong and hotel-wide.
Along with the daily refresh of bottled water and coffee (with 'minibar' resources available from the front desk), it was all you could hope for from an insanely underpriced holiday destination.
We spent a lot of our time jumping from beach to restaurant and back again. I can't endorse this kind of behaviour for the sake of your waistline, but it's a miracle worker on the brainline. Authentic Thai food makes me happier than any other food imaginable and (thankfully!) Centra's chefs were old pros. Old pros smart enough to offer Thai alongside a few Western dishes*. The restaurant isn't dirt cheap (£3-£5 per meal rather than the £1-£2 meals you will find eating street food), but a fair price for the geographical usurp they have on food options.
The spicy herbal salad changed my life. As did Happy Hour. We only chose to partake two or three times (neither of us are massive drinkers) but found it to be excellent value with a funny and infectiously happy bartender, to boot.
After The Manfriend burnt his eyelids to shreds, the bartender was the only person to get a smile out of him.
The only slight negative? Feeling like your regular Bear Grylls', we decided to go further afoot and take the hotel's recommendation for a day trip to Lamai.
What I didn't know then that I feel obligated to tell you now is that Lamai is a tourist town. The worst kind. The shouty, gift-shoppy, drinky, everything written in English kind. The kind littered with hungover Eastern European teenagers in head-to-toe neon orange. There was even a McDonalds (obviously, we went in to play the International Menu Differences Game).
We made the most of it, but I wouldn't recommend it.
Apart from that poor suggestion, Centra was a real winner. We ate, played and sunbathed like our bodies were invincible (eventually taking time out from relaxing for a bone-crunching Thai massage in their Cense spa).
If you want to see bits and bobs in action, be sure to watch the Koh Samui vlog at the bottom of this post!
*Chicken satay burger for the unapologetic win.