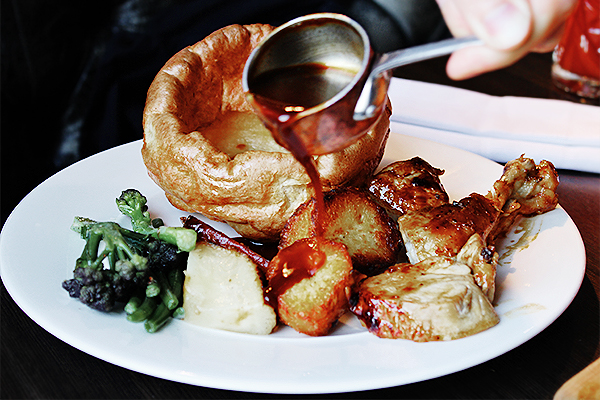 Though it took me well into my adult life to be sat in front of one, I developed a love for Sunday Roasts the day my Yorkshire-born boyfriend's mother invited me to hers.
When Beach Blanket Babylon announced they would be launching 'Host Your Own Roast' I was dubious. Though I've had nothing but great experiences and food at BBB, I have always associated their cavernous cocktail dens and extensive menus with the evening.
Of course, I would have been a fool not to give a £25 feast with unlimited Bloody Mary pitchers a shot.
Seated in one of the Shoreditch venue's windowside banquettes, the food came almost as fast as we could say 'chicken, please!' (you have a choice of lamb shoulder, suckling pig, rib of beef or chicken as your roasting joint).
Though the roasts are intended for five to eighteen guests, The Manfriend booked as a twosome meaning our chicken was pre-carved. Larger groups benefit from their very own carving knife, apron, and chef's hat.
Either way you're getting one tender, juicy mass of chicken.
Of course, a Sunday Roast is no Sunday Roast without trimmings and BBB are well aware. The feasting package includes honey-roasted veg, county-sized Yorkshire puddings, thick gravy, steamed greens, and roasties so perfectly fluffy-crunchy I almost forgot that carbs are the enemy.
Having wrapped the meal up with a final Bloody Mary and enormous slice of warm apple pie (The Manfriend opted for key lime), I was hard pressed to see why any Sunday should be spent elsewhere.
It was the best Sunday roast I've had (making it an irrefutable contender for the best Sunday roast in London). Just don't tell my boyfriend's mum