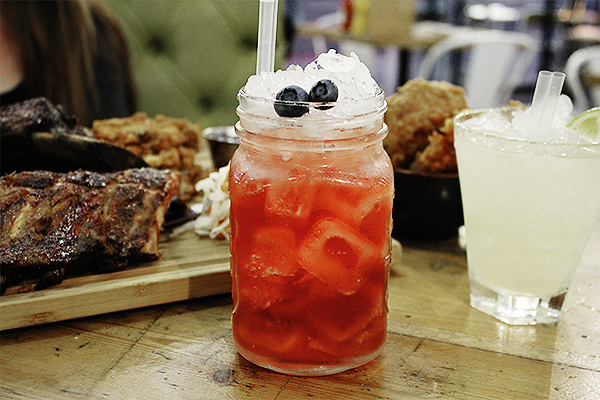 I'm not even going to lie…it was the promise of fried pickles that got me to dinner at Chicago Rib Shack in Clapham.
As a woman with Yankee roots, I have grown increasingly tiresome of the so-called American restaurants in London. Whether it's "Kentucky Fried Chicken" or the "Tinseltown Diner", it all translates to bland bland bland.
Chicago Rib Shack is a happy exception. From its location (an expertly-lit underpass in Clapham) to its staff (refreshingly chatty and helpful), it stands out from the gimmicky pack.
With one of my favourite Americans in tow, we settled into a booth and embarked on one hell of a feast. To start, we ordered a wooden slab of starters; mediocre mac & cheese bites (the accompanying tomato jam was necessary), incredible little pulled pork spring rolls (with pickled cabbage and Scotch bannet sauce), and some seriously moreish spicy chicken wings (with blue cheese and celery).
Of course, our eyes were on the barbecue-coated prize. For the main event we chose to share the Ribshack Top 4 without realising it was probably enough meat for four…or forty. The spread included baby back, belly and beef ribs (HEAVEN) with a side of pulled pork.
We paired the aforementioned binge with a Tommy's Margarita (a dangerous mix of El Jimador tequila, lime, and agave) and Raspberry Hard Lemonade (Haymans Old Tom gin, raspberries, and homemade lemonade), leaving just enough room for a few nibbles of sweet potato fries and my ultimate guilty pleasure, frickles.
Though there was room for improvement on the cheese and sweet potato front, I would recommend nowhere else in London for a meat feast than Chicago Rib Shack.