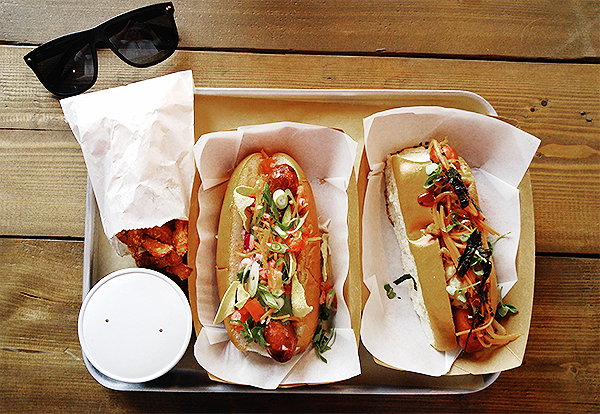 Though I wouldn't be able to call myself a beer aficionado, I am fortunate enough to call quite a few of them my friends and have thus spent many a night in BrewDog's national drinking holes.
After almost ten years of hard graft and record-breaking crowdfunding, the irreverent craft beer brewery just unveiled their first gourmet hot dog bar – Dog Eat Dog – featuring a carefully considered craft beer selection alongside some truly decadent hot dogs and sides.
With options for vegans, pups (Dog Eat Dog is, adorably, dog-friendly!), and non-drinkers (unlimited refills on Square Root soda), the Islington-based hot dog bar has something for everyone.
On my first visit, my champagne-loving accomplice and I indulged in a Tandoori Chicken Dog (with mango chutney, raita, red onion, carrot, tomato, coriander & crushed poppadoms) paired with Lizard Bride and a Kimchi Dog (with kimchi, teriyaki, nori strips & coriander) paired with Dead Pony Club. There is no better test for a restaurant than taking its least-likely customer for a bite.
Initially assuming this would be enough for two, we made the mistake of glancing at the other diner's trays and were quickly persuaded into adding 1000 island slaw, sweet potato fries, and beer-battered onion rings (the best I've ever had) to the line up.
We spent the afternoon dipping every piece of food imaginable into the onion rings' authentic ranch and sending photos of the doggie menu to all eligible puppy mummies. Islington, you'll be seeing much more of me.