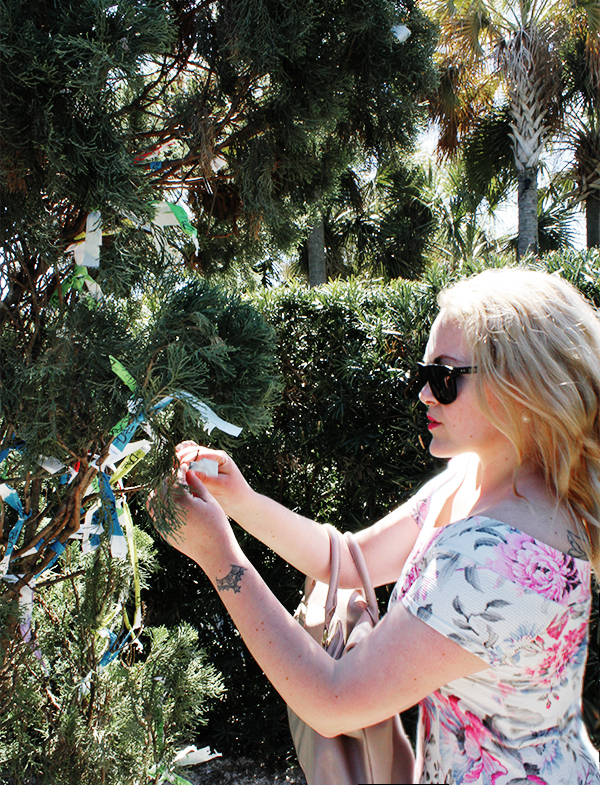 With ten days to spend in a sunshine-soaked part of Florida nicknamed "God's Waiting Room", I worried I may had subjected myself to nine days too many.
In actuality, I ate a lot, I swooned a lot, and I truly fell in love with the city of St Pete.
See why, below…
From the second I slid my Tevas on and stepped outside, St Pete reminded me of a subdued pride. A Proud To Be An American bumper sticker pride. Walking around St Pete – all smiles, sidewalks, and sweet red, white, and blue houses covered in political posters – feels like walking around a town created for a toothpaste commercial…
…with a little more heat and a hell of a lot more character, that is.
I connected with the Arts District almost as soon as I arrived. The aforementioned street art tour was my introduction, but my courtship spanned the entirety of Central Avenue. The unofficial and retro-heavy 'District' features a number of restaurants, galleries, bars, repurposed furniture retailers, psychics, and more. Even a few beautiful ghost signs.
Continuing my creative education, I spent one afternoon on the waterfront to visit the Chihuly Collection. The glass-blown collection is actually the first installation of Dale Chihuly's art in a building designed specifically for that purpose, meaning the architecture and journey compliment the art to perfection. While I wouldn't call myself a "fan" – the $20 ticket seemed excessive for the twenty-minute walkaround – I did find the art itself magnificent.
My fandom – in fact – lies with Salvador Dali, making the occasion to finally visit The Dali Museum a rousing one.
The Dali hosts many of its eponymous artist's finest and most surreal pieces. An iconic melting watch here, Lobster Telephone there – not to mention the oceanic views or incredible limited-time immersive exhibition: Disney and Dali.
In true Salvador style, guests now even place dreams and wishes onto their wristbands in the grounds and neighbouring Labyrinth, then sacrificing them to the flora. It is an unmissable gem of St Petersburg.
Naturally, I took a tick-tock from tourism to volunteer at Bernie Sanders' campaign office (but more on that in an upcoming blog!).
Though St Pete and Clearwater are renowned for their award-winning beaches, I am too restless to spend a full day at the beach so opted for an afternoon trip to Fort De Soto Park, instead. Unlike the area's more popular beaches, Fort De Soto has a truly untouched charm to its 1,136 acres: five keys surrounded by translucent water, dolphins, plant life, wetlands, camps, and more. A "beach" so beautiful I could have actually spent a day at the beach.
In the spirit of volunteering, I also lent a few humid hours to the Grand Prix.
Before a morning flight to Mexico, my amigas and I decided to wrap up the trip with a visit to the Sunday Night Drum Circle on Treasure Island Beach. We spent hours watching men and women laughing, twirling (even those wearing casts!), drumming, socialising, and stomping to the accidental harmony of every individual's chosen percussion.
As the sun set on both the beach and our Floridian juncture, I already anticipated my inevitable return.