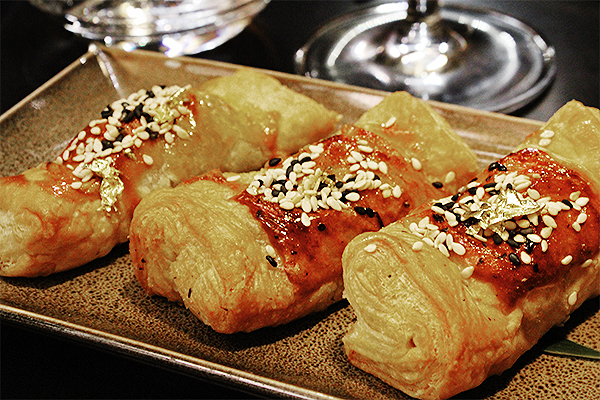 I bought new shoes for my inaugural trip to Chai Wu.
I did. I really did.
The entire day prior to our dinner reservation, The Boy and I endured a ten-(plus)-mile hike from Brighton to Eastbourne and, even though I had carried a dinner dress in my bag the whole way, I forgot to pack anything but trainers.
Chai Wu deserves much more than trainers.
As you may remember from their Ladies Lunch, the restaurant – hidden in the upper decks of Harrods' golden labyrinth – serves faultlessly modern Chinese cuisine with service and prices to match.
Slipping on and kicking off all at once, we cheers'd our day's effort with a bottle of Dopff Au Moulin's 2013 Riesling before launching into a savoury feast unlike any other.
We're talking lobster dumplings (topped with beluga caviar), a cocktail glass of gargantuan prawn spring rolls (served with sesame seeds and tomato salsa), the most delicate and flavourful Wagyu puffs I've ever come across, the Harrods special roll (fresh snow crab, avocado & spicy mayonnaise roll topped with chopped scallops, orange & black caviar & spring onion – a stunning meal on its own), and a plate of coconut prawns so unbelievably sauced they trumped my personal "unbeatable" Floridian heritage prawns.
And this was all prior to the main event.
The aforementioned – the Beijing Duck – was ceremoniously carved at our tableside, then served with fresh pancakes, Mantou buns, cucumber, spring onions, and a surfeit of sauces (hoi sin, pickled radish, cucumber, plum, et al – any sauce you could possibly desire). Even without the 'trimmings', the duck was flawless – tender on the inside and perfectly crispy on the outside.
Naturally, we licked our plates clean.
Though we couldn't bear the idea of dessert after such a gluttonous affair, our espressos arrived alongside a trio of handmade chocolate truffles that were simply too beautiful to refuse.
The whole evening was a sensory delight and one I intend on repeating for many years to come.