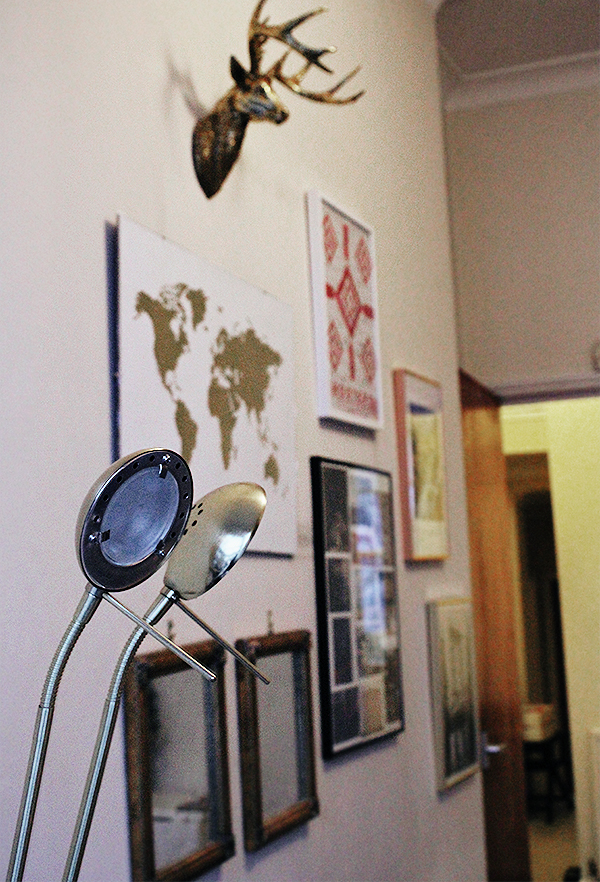 Last month, I moved into my most centrally-located London flat to date and have been on a manic spruce up mission ever since. And not without challenges. As London law goes (the better the postcode the smaller the space) this particular abode proved to be a bit of a storage/logistical nightmare.
Fast forward a few weeks and the puzzle is solved; gallery walls, gadgets, storage hacks, minimalist white & wood palettes, metallic design accents, and a fully personalised flat – just in time to throw a holiday party.
Welcome to the love shack, friends!
The Living Room
The living room cum office cum dining room is my favourite space at home. It in anchored by a large wall of books and feels as personal as a space can be; the books top bar carts, a record player, personal effects aplenty, and face a gallery wall.

The gallery wall itself balances the chaos of its opposing wall with maps, mirrors, art…even our bulletholed shooting range target from our recent adventures in America. The majority of the frames – along with the gorgeous golden map in the centre of the wall – are from Desenio.

…because an accidentally hipster house ain't a home without one: our vinyl record player (similar here).

Thanks to the holiday season, we also have a few festive extras kicking around: our bunting advent calendar string (that I made for bae) and a teeny tiny Christmas tree from Bloom & Wild. The latter of which sits atop our refurbished wood butterfly dining table with drawers (invaluable for extra space and space-saving when not in use).

During the daytime light floods in from the bay window of my office nook (swoon) but the room loses a lot of light in the evening from the high ceilings. To combat this, I positioned a beautiful eureka-style Marlowe touch lamp from Habitat against the central wall, which almost acts as art in itself.

Then, because I found a ridiculously good deal on First Choice Lighting, I positioned a brass floor lamp with dimmers against the gallery wall to illuminate any other spots of choice.

The Kitchen

Bizarrely, our biggest square footage is our difficult-to-alter kitchen (the joys of renting!). Nonetheless, we have our Miele Steam Oven, dozens of cookbooks, happy cork board memories, and enough space to dance during dinner prep. It's an 80s dream come true.

Naturally, my favourite thing in the kitchen is my space age-looking Nescafé Dolce Gusto Movenza pod coffee machine. It has touch screen technology, descaling alerts, XL cup functionality, 15 bar pump pressure (for coffee shop quality brews). Essentially, it is the LelaLondon.com life force.

The kitchen also hosted the guests of honour:

– The Rainbow Cake: Mirror Glaze Cakes UK are a small company that specialise in super light cakes with super reflective glaze frosting. I ordered the "Classic Round" for the party and customised the order with black icing, festive decor, and rainbow layers. The result was beautiful and a refreshing change from traditional cakes, if not a little heat sensitive (tip: serve quickly after refrigeration or you'll compromise the texture of the all-natural ingredients)!

– The Pierre Marcolini Chocolates: Few chocolatiers produce cacao-laden goods anywhere near as chic, so I couldn't help but set out a selection from their Christmas collection for our guests. The Crystals (tiny jewellery-looking delights), Pink Mini Tree (a dark chocolate masterpiece with hidden layers of puffed rice & hazelnut almond praline, and micro chocolate bars all went down a storm.

And because people tend to bring their tipples of personal choice, I like to offer a few unusual drink options. This time…

– Boodles Mulberry Gin: As British as it gets, no? This mulberry-sloed gin in a new interpretation of a classic that blends with the gin's unique botanicals (rosemary, nutmeg & sage) beautifully. Cold (especially with lemon) or slightly warmed.

– 1800 Silver Tequila: I was incredibly impartial towards tequila before 1800's double-distilled version came along. It is smoother than some of my smoothest whiskey favourites and really comes in handy for recovery Bloody Marias.

– Saviour Sparkling Beer: In its simplest explanation, the champagne of beers. With this one, Saviour use their traditional Saison, cork & package it in 750ml bottles, age it, then riddle & disgorge it using the traditional method to remove the yeast sediment (a la Champagne). It is rich – almost honey-like – farmhouse beer perfect for pint lovers at toast time.

From the kitchen you pass through the hallway (ukulele, florals, and all), past the bathroom (I'll spare you the boring tiles), and into the bedroom.

The Bedroom

A mastery of storage space. Not including our overstuffed wardrobes, we have shelves, pretty boxes and (filled) luggage on display while Snooze Central hides underbid mattress-sized storage space underneath a hydraulic lever.

If my OCD tendencies hadn't already been sent to cloud nine, the bed would do the rest. The mattress – from Cocoon – is the best I've ever had (and, having moved over twenty times, I've had my fair share). Cocoon was launched by Tempur Sealy to offer fuss-free luxury and – after arriving in a compressed box – proved to be just that. Whnn ordering, you simply choose your size, 'soft or firm', and your memory foam-padded mattress gets delivered (for free) within days to be unboxed and left to rise into shape. 10 year warranty and all.

In retrospect, it took no time at all to make this house a home.