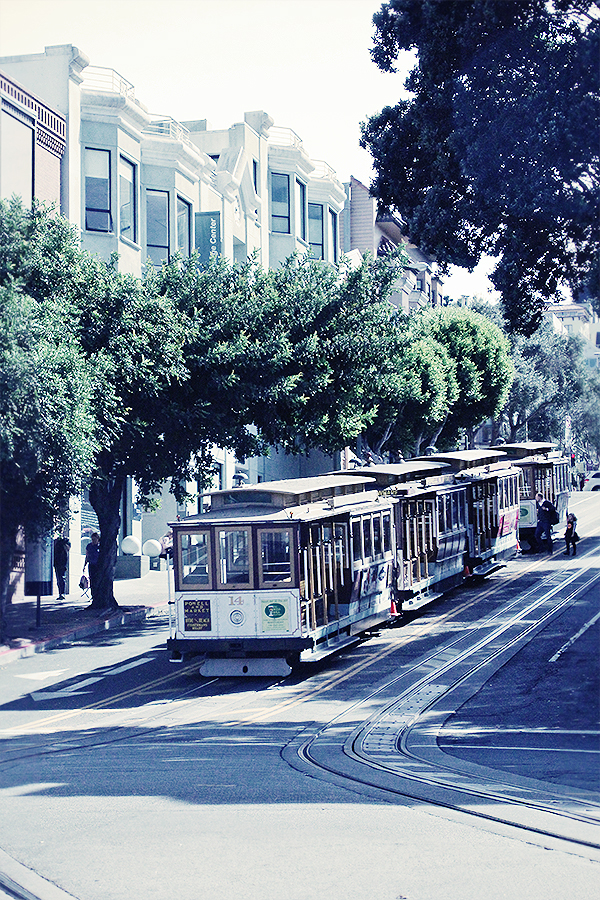 I was swept off my feet by Los Angeles. And it complicated things.
Before my month and a half-long trip began, I was convinced San Francisco would be the place I fell in lust with. I was truly shocked for the lust to as you know – it turned out to be the place
Through grey-tinted glasses, I have been telling everyone who asks that San Francisco was nowhere near as magical as I'd hoped. Until yesterday. When I opened my hundreds of photos to edit and relived my indulgences, excursions, and education visually…
San Francisco is sensational.
On our first morning walk from The Inn at the Presidio, we well and truly stumbled upon the Greco-Roman Palace of Fine Arts and city's promise all at once.
Not only was the Palace one of the most beautiful collections of architecture I have seen in my life (and I've been to Pisa) but a total surprise in a city I know only from tech start-ups and Full House.
I was in for a blindside or two.
By the time we hit the marina, San Francisco established itself as a trail of architectural dreams. In addition to commercial and government-owned structures, the homes are… transcendental. Some of the most beautiful and aesthetically quirky I've seen in my entire life.
As we were on a critical food mission (aka "DO NOT GET YOUR SLR OUT OF YOUR BAG BEFORE YOU ARE IN LICKABLE DISTANCE OF A BURGER", you'll have to wait to take more of a tour in the upcoming San Francisco vlog.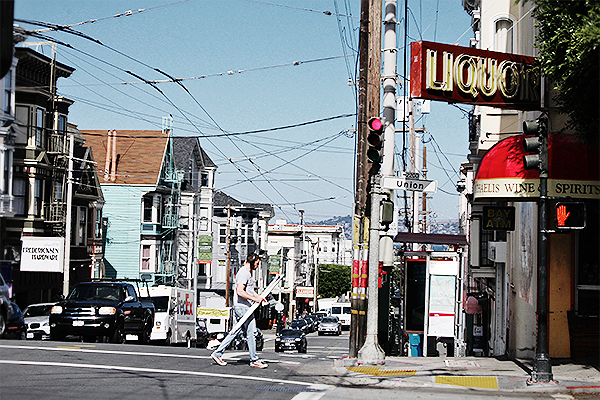 After getting to grips with the inevitability of San Francisco's infamous hills (no joke – there are about 100 times as many tourists on any riverside street than that of Bradford above Tompkins in Bernal Heights) we popped into Umami Burger to create a delicious mess.
The Sunny Side (parmesan frico, fried egg, truffle thyme compound butter, truffled arugula, truffled aioli) is gourmet burger goals.
Spending much of the rest of the day getting our bearings, I was disappointed to find Fisherman's Wharf ("a must-see") was actually a commercialised tourist hell saved only by a self-deprecating street performer. Who I desperately gave all of my cash to for fear of potential Wharf art droughts.
Well, there was him, and there were seals. Not a total bust.
The literal saviour of the day was that evening's visit to One Market.
I'm not going to hold anything back here: One Market is the best restaurant in San Francisco.
The draw to the restaurant was 'Tonya's Flight of The Month' – an initiative launched by One Market's exceptional sommelier, Tonya Pitts, to introduce guests to (and help them fall in lust with) three pours of her monthly favourites.
With the likes of Loretta Keller (of Bizou Restaurant) under her belt, Tonya became One Market's resident girlboss, a judge for the San Francisco International Wine Competition, a tasting panelist for Wine and Spirits Magazine, and one of the most infectiously passionate women I have ever had the pleasure of grape-swooning with.
In October, her flight featured David Coutelas Brut Cuvée Champagne NV (paired with local halibut crudo in tomato water and arbequina olive oil), Lieu Dit Chenin Blanc 2014 (paired with pan-seared day boat scallops, charred summer squash puree, chanterelles & tomato "raisins"), and Copain P2 Pinot Gris/Pinot Noir 2015 (paired with pan-seared Liberty Farms duck breast, vanilla-white bean puree & coonstripe shrimp).
One Market describes their food as "new American" in the same way we lazily describe talented chefs that source locally as "modern British". Don't get me wrong – there is no shade thrown – I simply find these genre boundaries massively undersell the genius of the fresh gastronomic feats both often deliver, respectively.
Chef Mark Dommen runs his open kitchen like the cogs of a Rolex and liberates his dishes from stereotypically "American" entirities. The innovation, ingredient quality and attention to detail made for one of the best meals of my life.
Of course, I couldn't check San Francisco off the list without visiting Alcatraz so booked a boat with Alcatraz Cruises (the official company and cheapest price to get to the island – don't go elsewhere but do book in advance as it frequently sells out!) and set off with a thousand questions to be answered.
I mean, Alcatraz was once home to some of America's most notorious criminals (Al "Scarface" Capone, "Birdman" Robert Stroud, etc) and, in the end, escapists. The stories, myths and mysteries are a brimming with scandalous intrigue.
Today, Alcatraz is a tour to be celebrated, massively informative, and as legendary as ever. Don't leave San Francisco without a pilgrimage.
On our final day, we wrapped our surprise food discoveries up with brunch at Grove Yerba Buena – a loosely Mexican inspired restaurant in a mountain lodge setting with food infinitely more consistent than its brand. We cleared our plates of Charlie's first breakfast burrito (a epitomizing example with soft scrambled eggs, crispy golden rosemary hashbrowns, smoky black beans,cheddar, jack, salsa `8 mashed avocado) and Ranchero Baked Eggs (two eggs baked in a house made roasted dried red chile sauce & smoky black
beans topped with avocado, sliced radishes, diced red onion, cotija cheese, sour cream & cilantro – served with warm local La Palma Taqueria corn tortillas) before deciding the food was so good we deserved dessert. If breakfast dessert is even a thing.
Their warm Cinnamon Roll Bread Pudding (topped with classic vanilla icing & served with a side of fresh strawberries) could absolutely make breakfast dessert a thing.
Pleased with our convenient find, we then rolled ourselves around the corner to spend a few hours at the SF MOMA. In my experience, Museums of Modern Art have proven to be definitive successes or failures and I'm delighted to denote SF MOMA as the former.
The Museum was diverse, enormous, and full of character – over 33,000 varieties of "character" (painting, sculpture, photography, architecture, design, and media arts). My highlights included an exhibition on the nature of art and its position within American culture (featuring works by Chuck Close, Philip Guston, Donald Judd, Sol LeWitt, Roy Lichtenstein, & Andy Warhol) as well as one championing Japanese photography (especially that of Shomei Tomatsu, Daido Moriyama, Nobuyoshi Araki, and Eikoh Hosoe).
Time seemed to move at warp speed and, before we knew it, it was time to get kicked out and wander off towards Comstock Saloon for a celebratory goodbye drink. The cocktails (though somewhat pricey) and atmosphere (though somewhat too thematic) are a bewitching union that kept us around for hours. Long enough to build up an appetite for beignets (fine, but served with a disastrous cheddar-mustard sauce), order the Cherry Bounce (a perfect blend of Bourbon, cherry brandy, lemon, Angostura, & champagne), and influence a few Barkeep's Whimsies (secret cocktails).
As far as I'm concerned, it was the best available prep work we could do for Vegas…
For more information and to start planning your visit to the USA, visit www.VisitTheUSA.co.uk.