There is something rather extraordinary about falling in love with a city you would have sold a kidney to leave at one point in your life, but that is exactly what Indianapolis has thrust upon me.
Indianapolis – affectionately known as Indy – was my wanderlusting teenage self's home and once felt small enough to warrant a transatlantic escape. Getting to know the city after almost ten years using London as a home base to travel the world has been a trip in every sense of the word.
Indy, in its current form, is electric. And well worth the extensive city guide, below. Enjoy!
What to do in Indianapolis
Traditionally, Indy found their tourism peaks from sporting events (the Indy 500, NBA, NFL, etc) and conventions but now boast some of the most unique cultural hotspots, restaurants, and activities in the Midwest.
As an introduction, your itinerary should focus on three need-to-know neighbourhoods; the little-bit-of-everything Downtown grid (encompassing Massachusetts Avenue & the Wholesale District), hipster-heavy Fountain Square, and indie nightlife hotspot Broad Ripple. All of which house the below: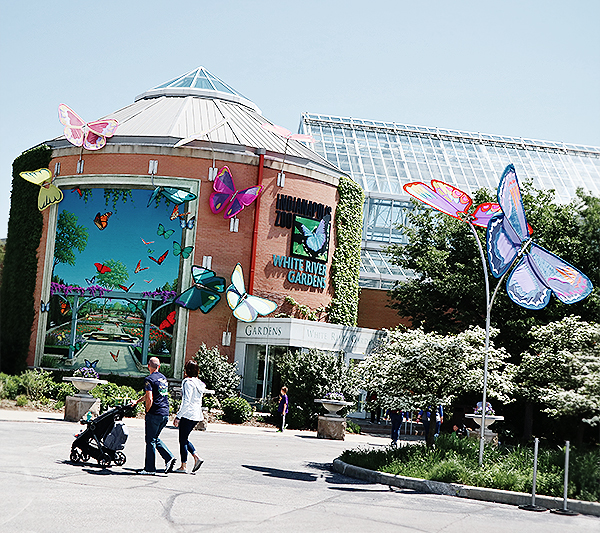 Indianapolis Zoo
The Indianapolis Zoo is one of Indy's proudest institutions. Unlike many US zoos, The IZ is a private non-profit organization (receiving no tax support) and supports all of their animals/conservation/aquariums/botanical gardens entirely by membership fees, admissions, donations, sales, grants, and an annual fundraiser.
In CEO Mike Crowther's own words, ​​​​​​​​​​"We're not a zoo doing conservation; we're a global conservation organization that is a zoo".
It is also one of the most beautiful, architecturally impressive (see: the Simon Skjodt International Orangutan Center) and bizarrely romantic (the 8-minute Skyline ride over the gardens offers incredible skyline views) ways to spend a day in the city.
Monument Circle
Monument Circle (and its towering Soldiers & Sailors Monument ) is the perfect place to start a day of downtown exploration, anchors a handful of local businesses, and offers a 330 step workout for those in search of an immersive skyline view.
If you happen to be in town on a Wednesday, it is also less than a minute from Indiana's Original Farmers' Market (at the Indianapolis City Market).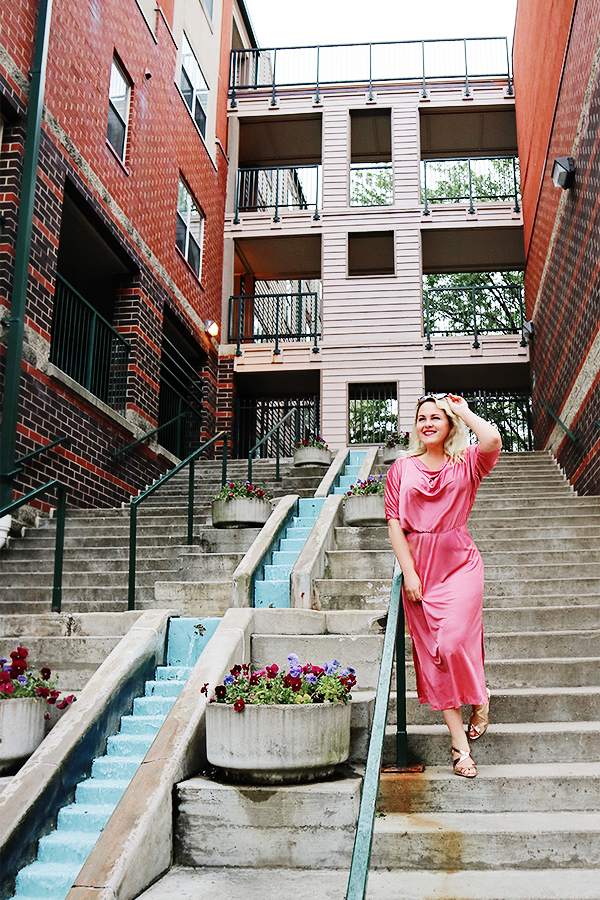 "The Canal" and White River State Park
The one place I went out of my way to visit in high school was the Indiana Central Canal and it's only got better. The canal takes you almost end-to-end in White River State Park and hosts many of Indy's best attractions; the aforementioned Indianapolis Zoo, Indiana State Museum & IMAX Theater, Eiteljorg Museum of American Indians & Western Art, NCAA Headquarters & Hall of Champions, Medal of Honor Memorial, Victory Field (home of Indianapolis Indians' baseball), Military Park, the Farm Bureau Insurance Lawn Concert Series, and the Indiana Cross Country Arena.
In season, you also have the chance to enjoy a gondola ride (operatic dulcet tones and all), canoe, kayak or paddle boat.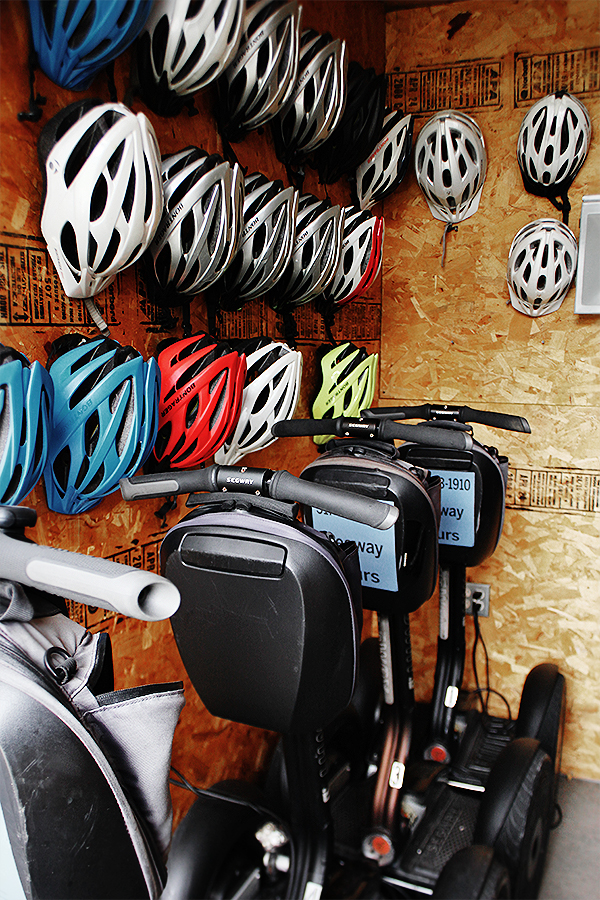 Segway Tour
The most exciting way to explore White River State Park – and a great introduction to the city as a whole – is with Segway Tours of Indiana. Their guided tours allow you zip around the waterfront and all of its aforementioned attractions in less than half the time with a local expert at your disposal for recommendations and stories galore. Each session starts with a short training session and is ideal for business and personal excursions alike.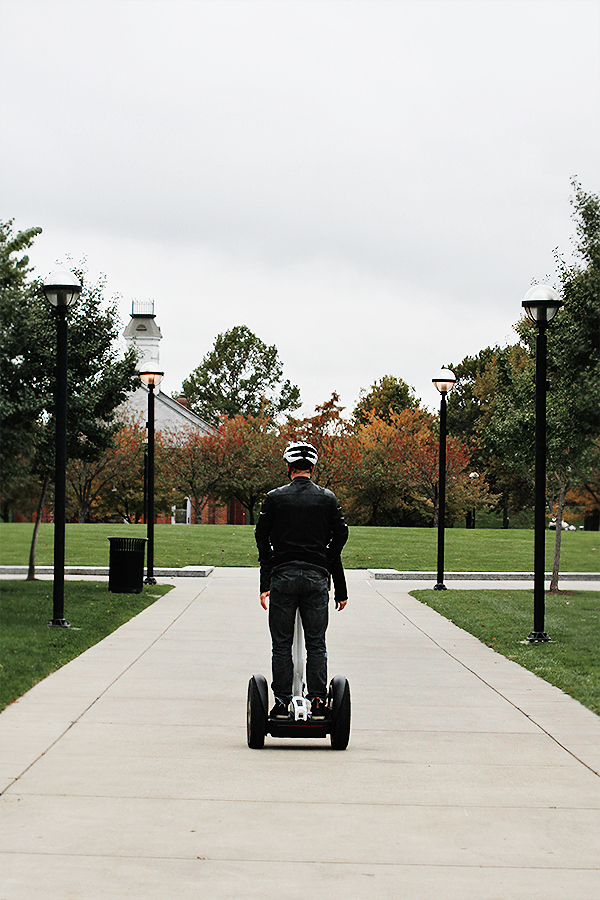 Indianapolis Museum of Art
I made temporary teenage success shooting my friends' senior portraits in the gardens of the Indianapolis Museum of Art and continue to spend as many hours in their grounds (the tourable Oldfields estate, Greenhouse, 152 acres of gardens, et al) as I do the actual museum. With a collection of more than 54,000 works of art, the entire property offers as much for the eyes as it does the head and, personally, beats every other museum in the city.
Where to eat in Indianapolis
Milktooth
Milktooth has been a genuinely unanimous food recommendation since returning for my best friend's wedding in October. The restaurant – the first of chef/owner Jonathan Brooks – usually teeters on almost too full to wait but is well worth a patient hazelnut-cashew milk latte in their parking lot.
The menu is food porn a-palooza; purple sweet potato donuts (with rhubarb lime conserve & matcha sugar), insanely chunky sorghum glazed bacon, a roasted asparagus & hollandaise dutch baby (my favourite – frosted with sunflower seeds, a hardboiled egg, shallots & greens), mixed berry dutch baby pancake (tart cherry and black raspberry sauce, creme fraiche, almonds, & burnt honey toffee) and more.
Order your every whim and thank me later.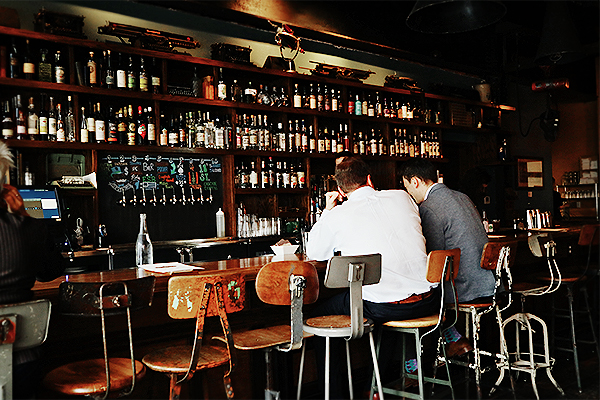 Bluebeard
Though I have yet to enjoy a fully-fledged meal at Bluebeard, it might just be my favourite. Their renovated 1924 warehouse is a blueprint of gastronomic perfection; the menu varies daily (always inspired by the freshest & finest ingredients from local farms and producers) and the atmosphere is that of speakeasy luxuriance.
One Lower East Side (Bank Note Scotch, Rieger's Kansas City Whiskey, Pedro Ximenez sherry, Atholl Brose, Mole Bitters Angosturra), bresaola-heavy cheese platter (with fresh bread from Amelia's Bakery, next door) and expertly seasoned plate of scallops in, I started to curate all future menu decisions. Bluebeard is hipster magic with the culinary cred to back it up.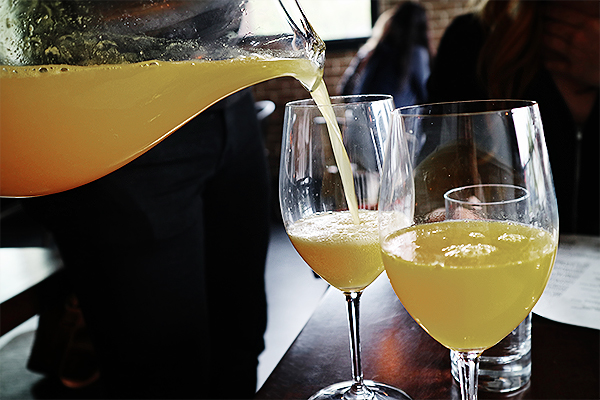 Open Society
I love Open Society so much I already jumped the gun with an Insta-swoon. From brunch to dinner, they offer gargantuan plates of new-American noms alongside the best coffee I've yet to find in Indy.
The Arbol Mule is crack for the caffeine reliant.
Menu highlights include their galletas (rosemary agave-glazed fried chicken on a gluten free waffle with home fries) and croquetta (lump crab cake, shrimp, herb salad, poached egg & chipotle hollandaise with home fries). With a pitcher of freshly-squeezed OJ mimosas, natch.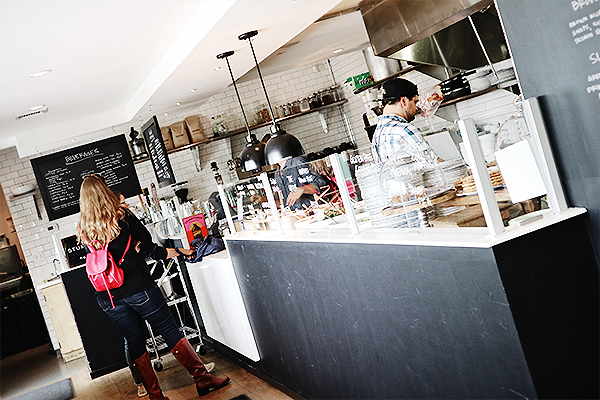 Public Greens
Public Greens might just be the catalyst for Broad Ripple's future as a foodie destination. Though there a handful of places worth checking out in the area, Public Greens' choice to use their farmer's market-inspired microfarm & urban cafeteria for the good of the community reigns as glorious as their actual food.
Their fresh mix-and-match salads, snacks, and proteins (their health-breaded veggie 'burger' was one of the most flavourful I've have anywhere) are diverse enough to satisfy any palate. With a purpose. All profits and crops go to feeding kids via The Patachou Foundation.
With a patio lining the Monon Trail, lunch options will never come easier.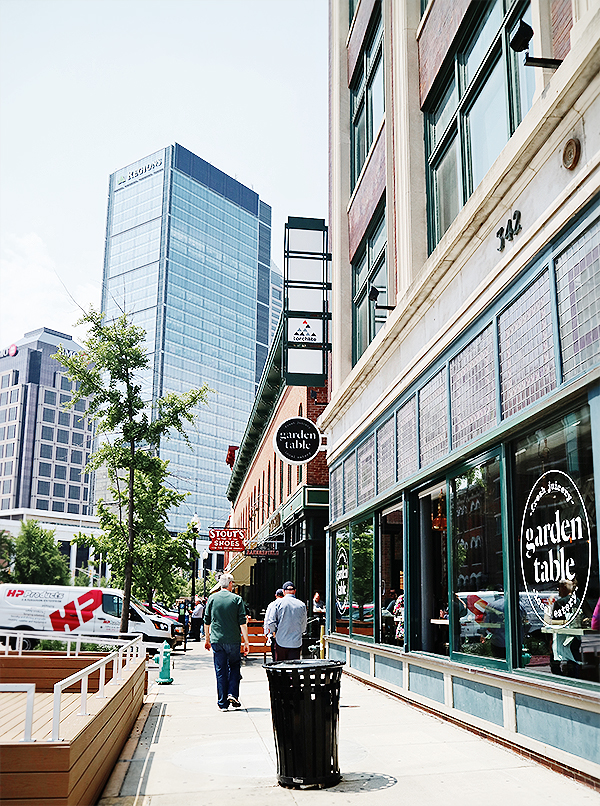 Garden Table
I am, in true millennial fashion, going to swoon over any restaurant that makes their mimosas with fresh pressed juice blends. But you will, too.
Beyond brunch indulgences, Garden Table makes some sincerely kickass, conscious health food. Their acai bowl (berries, almond butter, coconut, power powder & minty herbs) could fuel an army and their brisket beignet-dict (asparagus, shiitake mushroom & parmesan beignets with a poached egg & chipotle hollandaise) is one of the Indy food scene's most unexpected cult favourites.
That cheeky Lush Mimosa – Prosecco with 'Lush Love' juice (antioxidant-heavy watermelon, ruby red grapefruit, coconut water, lime, & basil) doesn't hurt, either.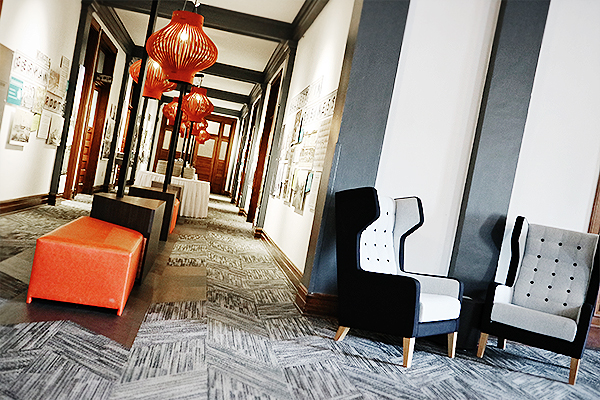 Coat Check Coffee
Over the last two weeks Coat Check has been both all-purpose office and home away from home for me. Stretched across the stunning interiors of the Athenæum, Coat Check's perfect cappuccinos have seen me through many an old friend catch-up and hardcore work session. It is the ideal level of chill for each and large enough that Coffee Moms can bring their tribes without a single distraction. C'est parfait.