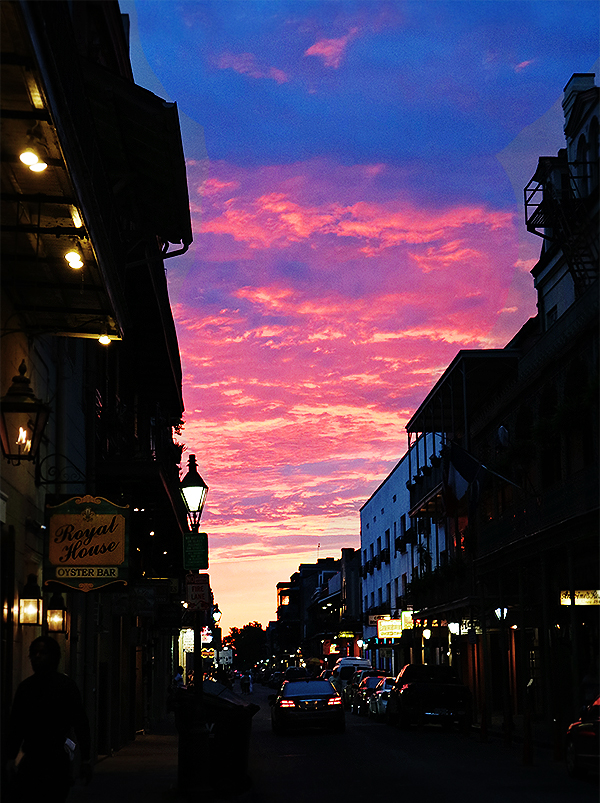 As a woman with an all-consuming passion for food and music, New Orleans found itself at the top of my bucket list long before I was old enough to enjoy the fruits of Mardi Gras, Bourbon Street, and the city's many other ID-protected infamousies.
In true go big or go home style, one of life's unexpected tragedies encouraged me to embark on a cross-country travel adventure – hereby referred to as Lela Takes The Crescent – on Amtrak's New York to New Orleans sleeper train of the same name.
First stop: the Big Easy…
Thanks to one of my favourite humans' recent relocation, my exploration started in NOLA's Garden District – a mecca of historic southern mansions. So much so that all 250 acres look like a 'Southern Charm' Pinterest board come to life.
Deciding it might be a waste of three short days to faux-househunt the neighborhoods, our band of hungry travellers hopped on the nearest RTA Streetcar (a cheap and direct link to downtown) in search for some local fuel.
While Bourbon Street is often recommended as Your First Stop in New Orleans (!!), I wanted anything but side-stepping tourists with cocktails hanging from their necks so wandered through the French Quarter (or Vieux Carré) for a while, instead. Dating back to 1718, the French Quarter is the city's oldest neighborhood and a true sensory exhilaration of architecture, the city's famed creole cooking, and ceaseless ramshackled glamour.
Eventually, we ended up at Napoleon House (named as such because the former owner offered his residence to Napoleon in 1821 as a refuge during his exile) to trial one of the city's many multi-cultural signature dishes – Muffuletta. The sandwich is emblematic of the Sicilian working class that inhabited the French Quarter and Tremé during the late 19th/early 20th centuries and Napoleon's version – ham, genoa salami, pastrami, swiss cheese, provolone cheese, housemade Italian olive salad (served warm) – is a gargantuan delight. Much like the restaurant itself. For a circa-1914 residence with a palm-filled courtyard, Napoleon House is cosy as can be, serves killer Sazeracs (with real Absinthe Superieure), and makes a home-style bread pudding so delicious we ordered a second.
Knowing the night was far from over, we stopped at NOLA's iconic 24-hour Cafe Du Monde for a few cafe au laits while we watched groups of all ages nibble through little bags of powdered sugar-engulfed beignets.
The real target for the evening's festivities? Frenchmen Street. Every musician friend interrogated committed to it as the only place to watch live music in New Orleans. And boy, were they right…
Frenchmen Street is electric. Creole cottages lead into innumerable live music venues with a seemingly endless supply of genuinely exceptional jazz bands. It is, hands down, the best street for live music in New Orleans and – thanks to an open container policy – offers as much entertainment on-street as it is does in-venue.
After a morning of exploring in the rain (YOLO), we stumbled upon The Blind Pelican (also bizarrely double-branded Samuel's Blind Pelican) and took refuge under their patio with a selection of surprisingly superb local seafood. The fried green tomato stack (topped with crab and shrimp) is something I'll crave for years to come and their happy hour (25 cent raw oysters, 75 cent chargrilled oysters, and 2-for-1 drinks from 4-8 PM every day) is an unbeatable recipe for a hell of a night.
After a few more hours exploring New Orleans' parks and architecture, our merry gang hopped in an Uber towards Bywater/The Ninth Ward for dinner at Elizabeth's.
The meal was so good it's getting its very own review in the succeeding blog (which I will then link here for your viewing pleasure).
As we had arrived earlier than expected, we walked along the neighborhood's train tracks and ended up at gem of all hidden gems – Bacchanal.
Prepare yourselves, wine and cheese lovers.
This 'wine shop' goes above and beyond all expectations. In addition to their hundreds of bottles, the space connects to a kitchen, a cocktail bar, and a courtyard doused in fairy lights. With live music every night, the atmosphere is as sensational as the staff are knowledgable – it is a wonderfully unique spot for connoisseurs and wine amateurs alike.
(Don't leave without indulging in a cheese plate; yo pick out your cheeses in the wine room and they arrange them on a platter with cornichon pickles, olives, candied nuts, chutneys and fresh ciabatta with stone milled wheat made by Bellegarde.)
After dinner, we returned to Frenchmen (natch) to dance ourselves silly, chat to local artists, and drink a little too much bourbon. While I could recommend the 'best' bars to visit in New Orleans, I encourage any newcomer to simply follow the music of your choice. I didn't visit the same bar twice and every single one didn't disappoint.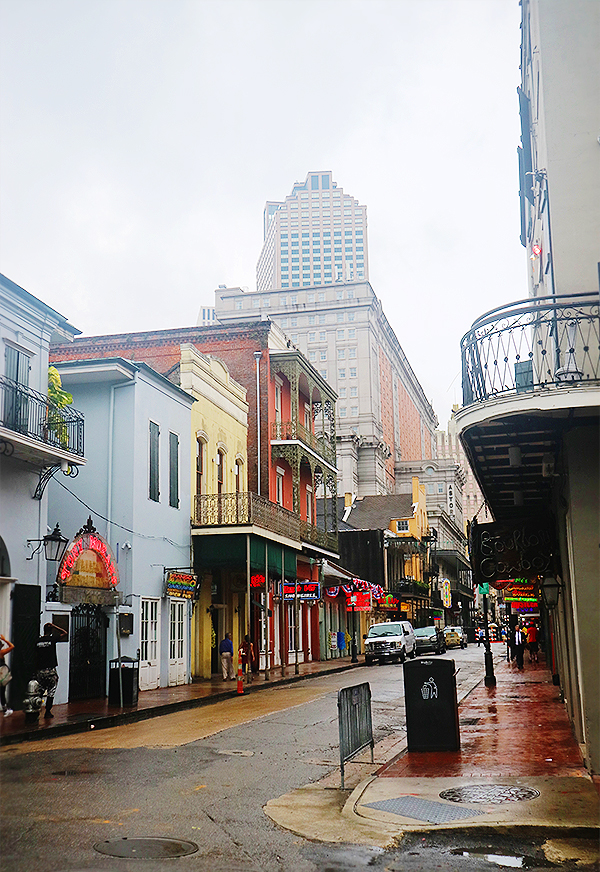 The following day, I thought it might be a good idea to tick Bourbon Street off the proverbial list in the daytime to decided to head to Remoulade for lunch. Remoulade is actually the casual cousin of Arnaud's (infinitely more expensive, same kitchen) around the corner and offers super fast, super delicious 'tastes' of all things Deep South, USA.
We shared A Taste Of The Bayou (jambalaya, an exceptional crawfish pie & filé gumbo) and A Taste of Louisiana (turtle soup, a Natchitoches meat pie & crawfish étouffée) before taking two Bailey's-creamed coffees on a twenty minute walk to the WWII Museum.
Though the upcoming vlog will detail it further, The National WWII Museum is well worth a visit in a city I would otherwise suggest you stay outdoors in. Though it focuses on the contribution made by the United States to Allied victory in World War II (read: potential for bias), the museum is incredibly educational, well curated, and filled with all the tanks, boats, air raid shelters, Spitfires, B-17s, et al to appease younger visitors' interests.
With one last night before Lela Takes The Crescent really began, we set off on one last jaunt around the city with friends old and new, discussed future plans for ghost tours & plantation visits, and bid adieu to one of my new favourite cities in the world.