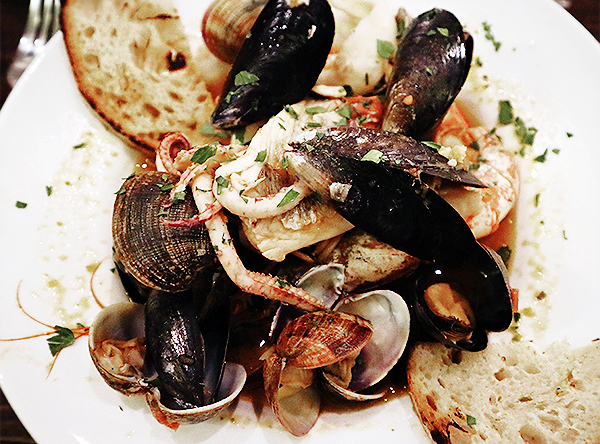 Authenticity has been bastardised by the food industry for far too long. Any old restaurant with a creme brulee on their menu seems comfortable calling themselves an 'authentic French restaurant' and great menus of undisputed origin have been lost somewhere in the culinary hullabaloo.
Bizarrely, East Village (London's former Olympic Athlete's Village) now has one of the most authentic Italian restaurants I've been to in years.
Though it is only one year old, Santi has built a reputation on the handiwork of their Napolitan pizza chef and his specially-imported Italian flour.
Well aware that real Italian food is much more than pizza, I ignored all dough-swooning inclinations and decided the rest of the menu had to be put to the test.
As my dinner date clinked her well-deserved Aperol Spritz with mine, every Italian in East London seemed to decamp across the tables around us in colossal groups. For a relatively frill-free atmosphere and unconditionally Italian restaurant team, this only assured its apititude in the quest for authenticity.
At prices more competitive than any restaurant in the vicinity of Westfield Stratford, we went on to have a deliciously bona fide Italian feast; fresh calamari fritti, involtini di melazane parmigiance (translation: decadently baked mozarella-loaded aubergine), a wildly generous guazzetto (mussell, clam, prawn & sea bass casserole) served with toasted bread, and perfectly cooked sea bass with fries and vegetables.
The addition of a bottle of Sauvignon Blanc del Veneto (a dry and elegant Italian pairing for gluttonous flavour chaos) tricked us into believing we had room for dessert. We quite obviously didn't when a handmade tiramisu larger than my head arrived next to the richest tortino al cioccolato (think chocolate lava cake with a little less lava) in existence.
I only managed a few bites but their mascarpone and espresso-heavy tiramisu was worth a return trip alone.
Santi get my authentic seal of approval and then some.