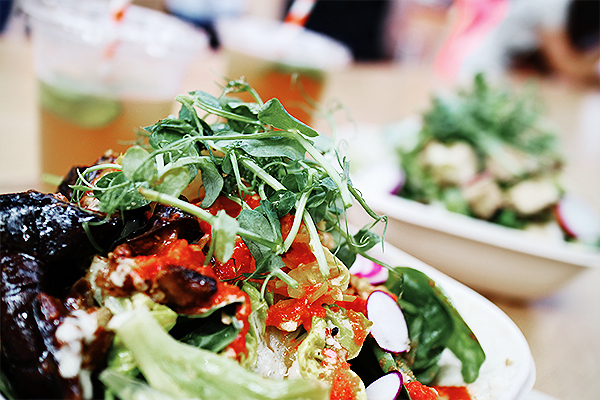 Old Spitalfields Market really finds itself up against it. On one hand, you have neighbouring destinations of dreams for tourists and locals (Shoreditch, Boxpark, Old Street, et al). On the other hand, you have neighbouring destinations of dreams that mean you're bypassed altogether.
What do you do to draw them in?
You get all the best hipster-loved culinary joints in London under one roof at The Kitchens – the market's dynamic and developing street food hall curated by Nuno Mendes.
It's a crowd-captivating concept in and of itself. One only heightened by the arrival of Summer's seasonal wave of new traders.
The historic Victorian market now plays host to a phenomenal range of traders including High Mood Food – a health food concept with a unique focus on fermentation. Co-founder and chef Joey O'Hare makes the most insane, flavour-packed salads (and living dressings) which all prioritise gut health.
I genuinely had such a mind-blowing working lunch with them recently that I went back to pick something up for a dinner date. At the same time, I got so distracted by the signature shengjianbao (aka soup dumplings) from Dumpling Shack that I was temporarily diverted.
I mean, the Shack's creators have spent three years perfecting their Shanghai-inspired dumpling recipes with regular immersive travel. It couldn't be avoided.
My future trips (and yours!) will surely include Mazi Mas' persian menu, Good Mood Matcha's iced watermelon take on the frothy drink, Pleasant Lady Trading's succulent Jian Bings, and the Insta-worthy Taiwanese treats from Wheelcake Island (for pancakes filled with everything from adzuki bean to Oreos).