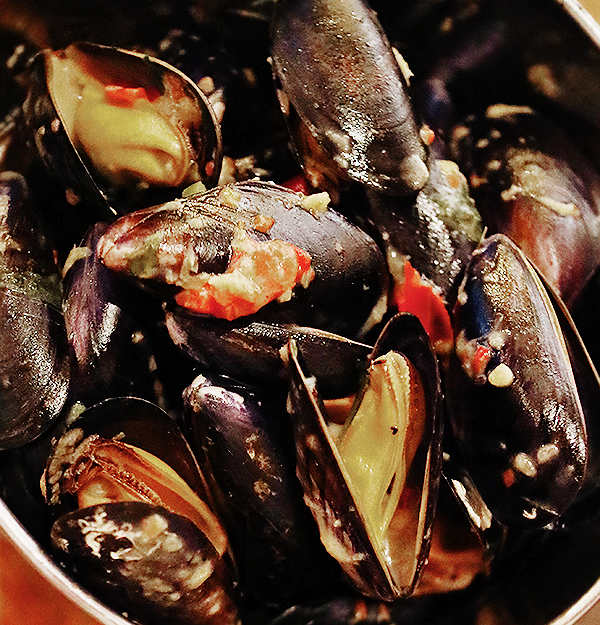 I spent most of June on an all-seafood diet and came home with the star-crossed seafood snobbery to show for it.
When you grow up in the Big Smoke, you learn to shy away from anything more spectacular than a midweek battered cod. Landlocked London has forever fought a losing battle against sustainable seafood that tastes anything better than mediocre.
Somehow, Bucket beat the odds.
The new restaurant (which, like a lot of my new favourite restaurants, decided to hop on the gentrification wagon in Westbourne Grove) is the great British high street's own little slice of Croatia.
An ex-Gaucho team have flipped a failed American-style diner into a rustic luxury beach shack with a spring in its step and the menu to match.
As its name suggests, small and large seafood buckets are their calling card but a tummy tide pulled me elsewhere on my introductory visit.
Their innovative small plates drew me in; I ebbed into salmon crudo (with grapefruit,pink peppercorn & lime), grilled squid steak with lemon purée, and tuna tartare (with breakfast radish, avocado mayo & seaweed crisps) with reckless abandon, expectations far exceeded from my first bite.
Indulgently, I added three oysters (with a selection of vinaigrettes) to compliment a Zacapa Old Fashioned (Ron Zacapa, Pedro Ximenez, chocolate bitters, & orange). They weren't the best I've ever had – keeping in mind I used to eat them straight from the water as a child – but they were the best I've had in London. Especially at the side of such an infallible cocktail.
Bucket-wise, my date and I opted to share a small bucket of coconut and chilli mussels alongside a sesame-sprinkled seaweed and cucumber salad. Both touted a sensational, balanced flavour profile and interesting Southeast Asian touches.
At the recommendation of our incredibly friendly and attentive waiter, I took a pre-dessert pause with a Seaweed Martini which – despite looking like actual filth – blended Hendrick's, St-Germain, seaweed, sea algae, & cucumber to umami perfection.
While I was tempted to carb up on my booth neighbour's lobster mac & cheese and dive into the rest of the cocktail menu, I decided to bookmark such plans for a future visit and wrap things up with pineapple carpaccio (with pink peppercorn, lemon thyme cream & coconut ice cream) and a bite of my date's mascarpone-heavy tiramisu.
Whether you're popping in for £1 oysters* or a Lela London-style feast, there is no doubt in my mind you would leave anything less than thrilled. But I have to put my wind behind the sails of the latter.
It is quite literally a Bucket list restaurant.
(* With any bottle, jug, cocktail or bucket of beers. 4-7pm on weekdays and 4-6pm on weekends.)