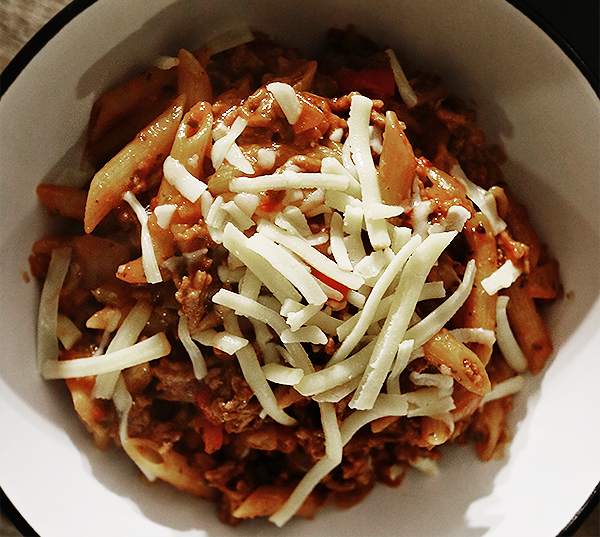 You ask for it and you get it, guys and dolls: the bolognese recipe to beat all bolognese recipes. The rather impromptu Instagram Stories how-to I posted a few weeks ago received more comments than any other Story I have uploaded to date.
A lot of drool emojis. A lot of recipe requests. A lot of "why don't you just use a packet sauce, Lela?".
Because once you have the best you don't mess with the rest, mi amigos.
Luckily, this bolognese looks (and tastes) far more complex than it is in practice. The recipe is all about layering flavours and textures, not any kind of culinary finesse. My favourite part of the recipe is actually its secret ingredient – a can of Nescafe Azera Nitro. I've only added it to the recipe within the last month and a few swigs of its super-smooth, nitrogen-infused coffee practically turns the moreish sauce into edible velvet.
(If that's not selling point enough, it's also worth noting that a caffeine and carb combo might be the undiscovered pick-me-up food hack of the century.)
Enjoy!
Ingredients:
– Your pasta of choice (I'm not going to be precious about it – the magic is in the sauce)
– A can of Nescafe Azera Nitro Americano (to taste)
– A glug of cheap red wine (scientific measurement)
– A box/tube/of high quality passata
– Three cloves of garlic
– One large carrot, finely chopped
– One onion, finely chopped
– An aubergine, some mushrooms, or whatever else you like the 'squish' of
– A 500g pack of beef mince (or a vegetarian substitute)
– One beef stock cube (again, so veggie if preferred)
– A large stalk of celery, finely chopped
– Two raw chillis
– One red pepper
– A lifetime supply or oregano (or about 10 tablespoons)
– Cacao nibs
– Two bay leaves
– High quality olive oil
– One tablespoon of truffle oil
– A sprinkle of Parmigiano Reggiano or grated cheddar
– Salt and pepper (to taste). A good salt, like Halen Mon (my favourite) or Maldon (more readily available), will make a huge difference.
How to make the best bolognese in the universe:
1. Chop all your veg to death. Microscopic style.
2. Throw your garlic, chillis and onion into a small pool of olive oil in a large frying pan. Cook at a medium-high heat for one to two minutes.
3. Add the rest of your chopped veg incrementally, based on weight. This translates to carrots first, celery last.
4. Season with salt and pepper once cooked and push to the side of the pan.
5. Next to the veg, pop your mince in and cover it in oregano. Season with salt and pepper.
6. Once one side is browned, flip the mince over neatly and oregano the bejesus out of the other side.
7. Break the mince down and combine with the veg. Add the truffle oil and sprinkle a beef stock cube over the mixture.
8. After a minute or so of cooking, cover everything in passata, sprinkle on some cacao nibs, and dust in as much dried chilli as you can handle.
9. While that cooks, prepare your pasta in a separate pan.
10. As the liquid begins to reduce, add glugs of wine and Azera Nitro Americano. The wine will add sweetness, if preferred, but I prefer to pour more coffee in. Taste as you go.
11. After ten or so minutes – when everything smells and tastes like you've died and gone to Italy – combine the sauce and pasta.
12. Dish out with some Parmigiano Reggiano and drink the rest of the wine you didn't use. Bon appetit!