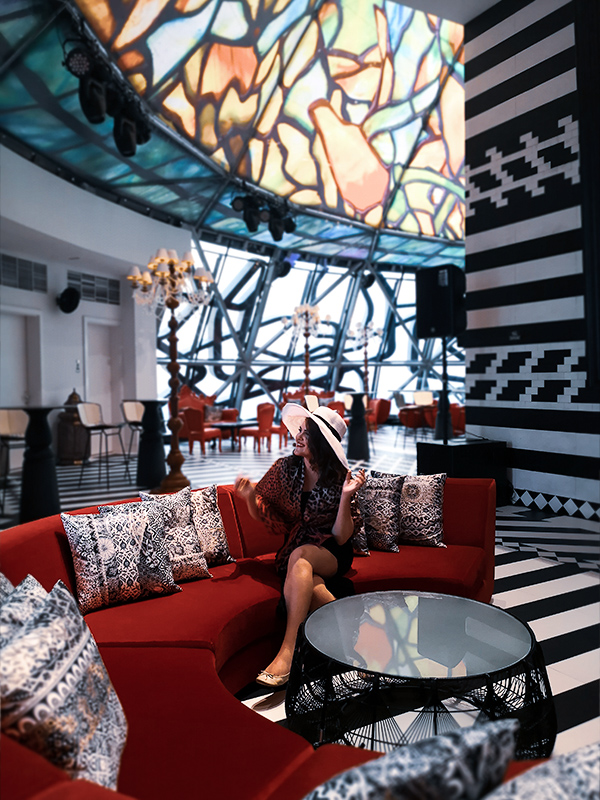 A lot has happened since my first trip to Doha. Both personally and…Qatar-ily. In the three years that followed the country has pushed full steam ahead to build all things World Cup 2022, fallen into an unexpected diplomatic crisis (severing ties with the UAE, Saudi Arabia, Egypt and Bahrain), and developed faster than any country I've visited in my lifetime.
The skyline is no longer a skyline. What was once a handful of aspirant skyscrapers has become a pop-up book of investment, expansion and pride.
One which now harbours much more than you'd expect from the eminent stopover destination…
(All outfit details at the end of the post!)

Where to Stay in Doha
The Mondrian Doha
My favourite new arrival to Doha is this Wonderland of a hotel. In fact, it doesn't seem quite right to call it a hotel. Though the rooms have everything you could need (or want) and the service was impeccable, the Mondrian Doha is far more than a place to rest your head.
All 24 floors are design-led (with custom designed furniture & fixtures by Marcel Wanders) and offered unique explorations of their own:
After checking in, we headed straight to Walima for dinner. The restaurant prides itself on modern Qatari hospitality, and that is exactly what we received. That and a diverse menu of local and Middle Eastern dishes that could cater to purists or experimental diners alike.
The restaurant even has a beautiful sunken majilis for large family meals, an outside terrace whee you can enjoy Shishas in traditional Arabic tents, and private glass boxes for a more intimate meal.
The hotel is a true foodie haven; there is a highly-acclaimed Morimoto (with incredible artwork by Hiroshi Senju), a New York-style burger hotspot (Hudson Tavern), a Magnolia Bakery, and even CUT by Wolfgang Puck – signature steakhouse at night and breakfast boutique in the morning.
In fact, the sky is the literal limit for the Mondrian. On the 27th floor, 'Rise' bar overlooks their fantastical swimming pool and lounge area on one side and the Pearl, West Bay, and Lusail City on the other. It is all Skybar LA and I could have spent the entire trip luxuriating under its hand-painted glass dome roof.
Last but not least, the spa. The branded 'ESPA' is nothing less than a a secret garden. Behind an unmarked door, its thoughtful and unique design elements – consistent with the rest of the hotel – lead you through the shimmering mosaic walls of relaxation areas, treatment rooms, crystal rain showers, a Finnish sauna, and even a traditional Turkish Hammam (which I fully endorse).
The male and female spas are separated, as you might expect, but photos suggest men have a consistent – albeit less stereotypically 'feminine' – environment to enjoy.
What To Do and Eat in Doha
Kayaking
I haven't gone kayaking since my last trip turned into a rescue mission so was beyond excited to learn Qatar had a little kayaking excursion of their own on offer.
In Al Thakira Bay, a lovely little team take locals and tourists out for a paddle around their lovely (and very beginner-friendly) waters. There is even an island in the middle of the bay where you can indulge in a little swimming and – if you're lucky – some flamingo watching!
There are some offroad-worthy desert paths to tackle on your way in, but they're a great adrenaline push for pre-paddle nerves. The trip lasts roughly two hours and was a great chance to talk to locals, to boot.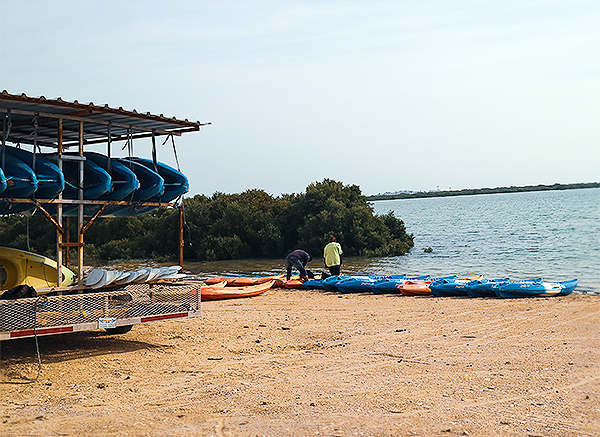 Katara Cultural Village
Katara is a beautiful amalgamation of culture that I hadn't had the pleasure of visiting during my last trip. As its full name would suggest, it is very much a village; photography-worthy architecture around every corner, restaurants, families, coffee shops, galleries, ampitheatres (one of which was hosting free international music performances), a swimming beach and more.
Though I only had an hour or so to explore Katara's well-manicured ground, I was really taken by hoards of laughing families on the promenade and a slew of buggies and golf carts that spun through the streets, eager to find something new to explore.
Baladna Farms
Qatar's Saudi blockade has alienated the country from some of its most necessary trade partners, meaning resources – even those as simple as milk – are near impossible to import sustainably. As such, Baladna have put themselves at the forefront of making Qatar self-sufficient.
The farms are available to tour, but the farm cafe is a great destination for those who are time-poor and hungry. The
food is delicious, local, and the fresh Ayran (a salted milk with yogurt texture) is a must-try, for the pure Marmite feels of it.
Museum of Islamic Art
Though I spoke of the museum in my last visit, I was pleasantly surprised to find there were more exhibitions available for my second visit. The world-class collection spans 1,400 years of Islamic culture and offers hours of free entertainment and education.
If you're visiting before April 30th of 2019, be sure to check out 'Syria Matters'.
Parisa at Sharq Village
Sharq Village
I returned to Sharq Village (aka the pinnacle of Qatari opulance) for a meal at Parisa this trip and it didn't disappoint. I When In Rome-d the menu to the max, sharing almost every sharing plate available alongside a charcoal table grill of outstanding mixed meat.
The ambiance, as expected, was wonderful (especially on the terrace, which offers sea views of Doha Bay) and I particularly enjoyed the World Cup stadium models they're hosting in the lobby as I rolled myself into a taxi.
The Pearl
The Pearl-Qatar is an artificial island spanning nearly four gorgeous square kilometres. Whether intentional or not, the area looks something like a pastel-painted Venice and is extraordinarily empty in the daytime – making it something of a hidden gem.
Like many of Doha's favoured destinations, locals assured me that it came to life in the evening but I really enjoyed its bizarre tranquility. The upmarket restaurants, promenades and shops felt magical in their vacancy.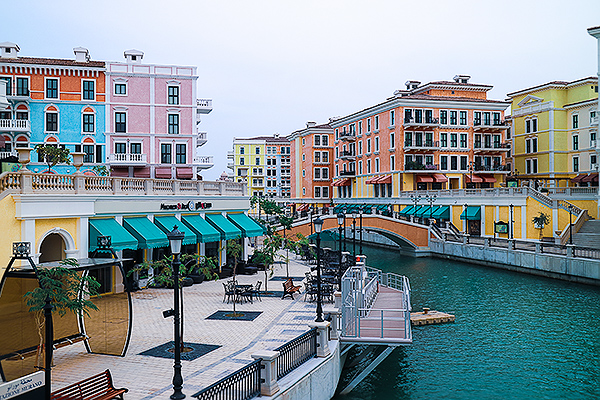 Bottomless brunch at Opal by Gordon Ramsay at The St Regis
Opal by Gordon Ramsay at The St Regis
This was my indisputable foodie highlight of the trip. Opal's bottomless brunch is served on their beautiful garden terrace and includes a seemingly endless stream of starters, sushi, mains and desserts. Highlights include the
spicy tuna hasso maki, a peach & endive salad, tiny eggs benedict, and a Comte-filled wagyu slider.
Everything was truly unique and the atmosphere was as relaxed and social as such luxury can afford. I enjoyed my time so much I even sauntered up for a pit stop at the hotel's rooftop weekend brunch party (the most Dubai thing I've seen in Doha, for sure).
Souq Waqif
Though I held a soft spot for the souq after my last visit, nothing prepared me for its energy in the night time. The eponymous 'standing market' is electric after the sun sets.
The vibrant market streets of spices, oils handicrafts, clothes, pearls and pets take on a life of their own. Restaurants fill in the blink of an eye. Shopkeepers leave their goods in the hands of neighbouring retailers as they catch up with friends. Locals welcome expats in to play games of chess in tiny clubs. Women sell their expertly-made goods with the vigour and importance of their male counterparts (the souq has made a push to offer women free retail space).
The souq was life. I didn't want to leave and I can't wait to return.
How To Get To Doha
Qatar Airways Business Class
Like last time, I to and fro-ed in the luxury of Qatar Airways' business class.
My favourite airline (and trust me, I actively look for others) once again topped me up on champagne more attentively than an axious first date would. Offered a comfy in-flight lounge to chat with new friends in. Took me on two world-class culinary journeys. Forced me to select between hundreds of movies I had been looking for an excuse to watch.
Business class with Qatar Airways is truly like a holiday of its own.
On the way back, I even had the chance to indulge in the 'Qsuite' – the airline's new standard for Business. Instead of turning into a fully-flat bed, Qsuite seats can connect to the neighbouring seat to build a double bed and move partitions to create a four-person office and desk space.
I, naturally, opted for the former and binged on some old-school episodes of Friends in bed with my two travel buddies. Afternoon tea, bubbles, and all.
What To Wear in Doha
I'm a woman with a troubling penchant for minidresses. Being culturally sensitive, I knew I needed to approach things more conservatively than I would in similarly hot climates so pulled together a few long dresses and realised I didn't have anything properly exciting to wear.
Thus, I went on a bit of a Seafolly spree at Simply Beach. Using this beautiful mid-summer dress (seen above) as a gateway garment, I added their packable wide-brim hat and Moonflower bikini for the poolside (which ended up being a super-splashy godsend during some vigorous kayaking!).