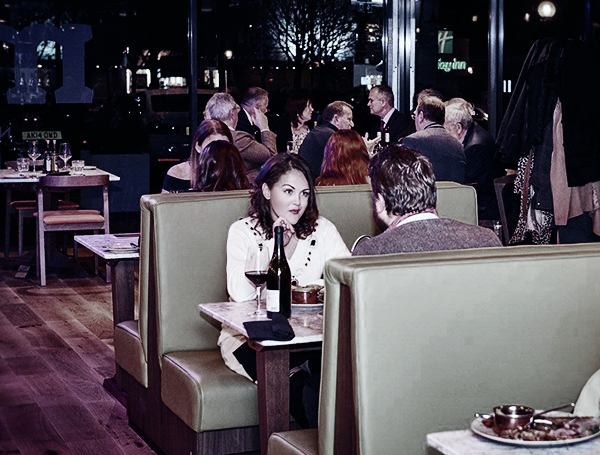 Somewhere between dining at Marco Pierre White's Marco's New York Italian and sitting down to write this review, my memory card got well and truly corrupted.
I spent more than a few days trying to repair the little square's wrongs, to no avail, before I released my growing indignation wasn't very, well, Marco of me. And everyone could stand to be a little more Marco.
Pierre White is, and will always be, the enfant terrible of celebrity chefs. I knew it the second my bored teenage curiosity sat me in front of a copy of White Heat, I knew it the fateful day I somehow shared a kitchen with the man, and I – unexpectedly – knew it when I left his new Milton Keynes restaurant impressed.
Truth be told, I wasn't expecting much. The shiny-but-simple New York Italian is attached to the Holiday Inn Milton Keynes and, if experience has taught me anything, I know to keep most hotel-connected restaurant expectations to a minimum.
As the fact that I'm even blogging this might suggest, I had to surrender my caution almost as soon as I sat down. The staff were lovely. The food was lovely. The drinks were l- well, actually…the drinks deserve an adjective of their own.
Marco's new menu is Pierre White done unobtrusively; classic American starters, mains and desserts dusted with Italian flavour and flair. Affordably. It fits the perfect hole that Bardolino, Mr. White's, Wheeler's of St James, Koffman and Mr White's and his eponymous steakhouse had yet to fill in the chef's portfolio.
We started with as-you'd-expect calamari fritto misto (with salsa-ed mayo) and buffalo wings before being blown away by the surf 'n' turf – a rare 10oz ribeye, New Orleans blackened shrimps in garlic and rosemary butter, with some subbed-in sweet potato fries.
The dish – and the bloody behemoth wine list – was incredible. We took our time with the Amarone della Valpolicella Classico throughout the meal – an incredibly elegant and rich Venetian made for red meat. Though it wasn't a two-bottle sort of night, the Waipara Hills Sauvignon Blanc, – one of my favourite Kiwi wines – stood out as another unexpectedly fantastic option.
It's not a restaurant I'm going to travel to Milton Keynes for, but it is absolutely a restaurant I'm going to want to visit when I'm in Milton Keynes. It's an experience that sent my eyebrows up to the high heavens in an oblivious candid. And that counts for something.
* A decade later, it would be described as "the most influential recipe book of the last 20 years" by my equally-beloved Jay Rayner.