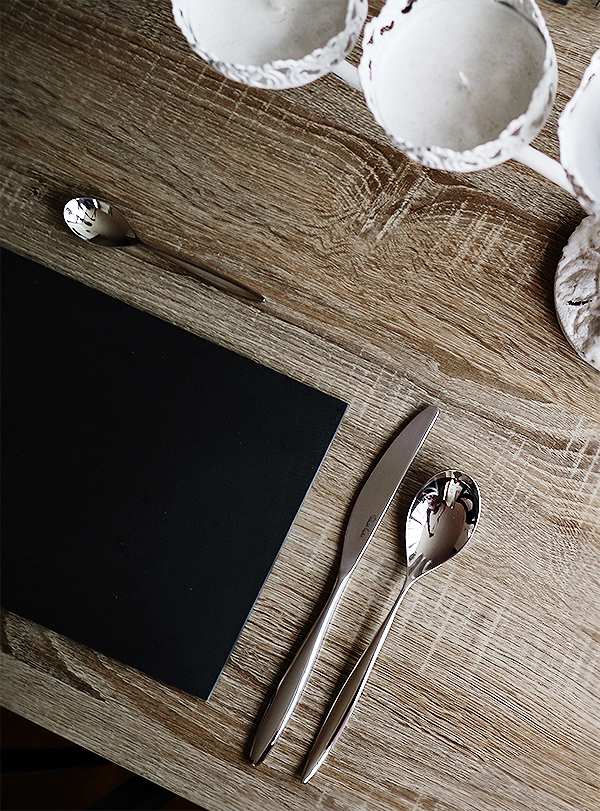 It's no secret I take a lot of pleasure in food blogging my way around the world. I find joy in every little part of it – the unpredictable street stalls, the over-egged white tablecloth service, everything. For me, the experience is as vital as the food.
When we moved into our beautiful stone-walled home, I got incredibly excited to make the dining area something of an experience. To decorate a hella-investment of a reclaimed wood table in rectangular slate mats and a gorgeous arrangement of stainless steel cutlery (from my beloved Robert Welch, natch).
(In related news, I've been scouring this new site for affordable art and have to give it a shoutout – they have a delicious selection from emerging artists!)
Now, strap yourself in for some OCD realness:
Dinner plates should sit in the centre of the place setting. Place your cutlery on the table in the order of use, starting from the outside and working inwards with each course.
Forks should be set to the left of the plate, with knives placed to the right, blade edges facing inwards. Soup spoons should be placed on the right of the knives.
Place the dessert fork and dessert spoon above the plate with the fork prongs facing right and the spoon bowl facing left.
Side plates always go on the left of the dinner plate.
Glassware should be set above and to the right of the dinner plate and should include a red wine glass, a white wine glass and a water glass.
Naturally, do as little or lot with what you have available – even beautiful basics will forgive the rest (and get you a tonne of compliments from dinner guests)!