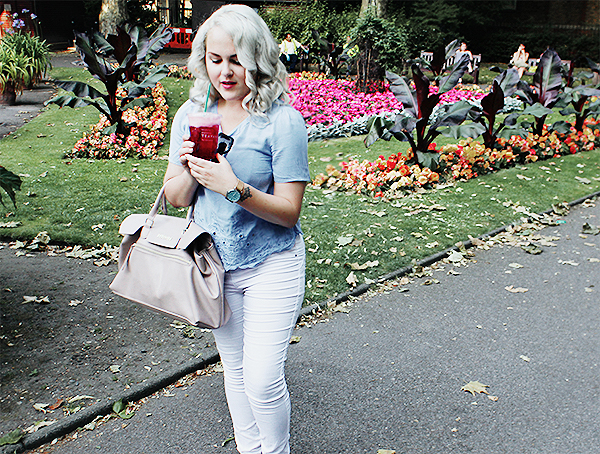 I have always identified as a positive person but realised only recently just how sublimely and abnormally happy I am. Even when challenged by life's inevitable little niggles. Especially for a Londoner.
Because it gets brought up a lot in conversation – particularly with new friends – I thought I'd do a little soul searching in partnership with Starbucks' punchy new Teavana iced teas.
Almost every day I've popped in for my mid-afternoon pick-me-up, I've ordered the deep pink Hibiscus tea. Because, I've realised, nothing makes me happier than the little things. Silver linings in the clouds, the colour of my drink against a blossoming garden, the kindness of a stranger, a song you haven't heard in years coming on the radio – all so easy to take for granted but so lovely in their modesty.
Happiness is the little things. Especially when they taste like Summer.
What I Wore:
Starbucks Teavana Hibiscus Shaken Iced Tea (my hibiscus, lemongrass, rose hips, mango & passion fruit-blended favourite!)
Blue laser-cut top from Oasis (similar here)
White skinny jeans from Burberry Brit
Sandals from Teva