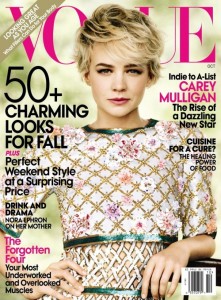 Vogue cover model and Wall Street 2 actress Carey Mulligan has revealed that the Chanel dress she wears on the cover was one of many samples flown in from Paris – none of which fit.
"The cover dress was very pretty but wouldn't go over my arse," she said. "Sample sizes are very, very tiny. I'm actually wearing a towel around my waist and the bottom is clipped up because I couldn't fit."
Yes, sample sizes are small, but making a negative statement towards the clothes you're being paid to endorse is a bad move for someone still relatively un-Vogue. Making a statement like this causes raised fashion brows, Mulligan.