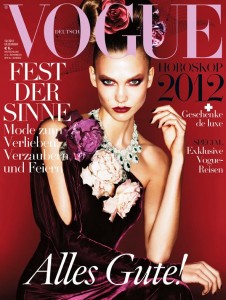 Wham! Bam! How gorgeous does Karlie Kloss look on the December 2011 cover of Vogue Germany? This, being released less than a week after she joined the Victoria's Secret runway Angel Team, is capping off a wonderful year for the 18-year-old model.

As you may remember, Filipa Fino – longtime Vogue accessories editor – left the magazine in June, but left her reasons up to anyone's opinion. Until now. On November 28th, she is releasing a 40-page holiday gift guide for Cyber Monday, and then following it up with a brand new free online accessories magazine called Fino File in February! Yay!

Karl Lagerfeld's master plan for economy recovery:

"I think they should make a tax so that when you earn a certain amount of money, you have to spend a certain amount on shopping. To buy whatever…and that way, we create tons of jobs. I think it's a good idea. What I hate is people with a lot of money who don't spend it."
Agreed.

Unfortunately, some terribly sad news – philanthropist and cosmetic-industry leader Evelyn Lauder has lost her battle with ovarian cancer. My thoughts are with her friends and family.

Gianfranco Ferré have finally (officially) replaced designers Tommaso Aquilano and Roberto Rimondi (who left the brand in April) with Stefano Citron and Federico Piaggi – the pair of "unknowns" who produced Ferre's Spring/Summer 2012 collection.

On Friday, thirty-one-year-old Julia Restoin-Roitfeld announced that her and her boyfriend, Robert Konjic, are expecting! (Via Facebook, of all places). This means Carine Roitfeld, in a short six months, will become the hottest grandmother alive.