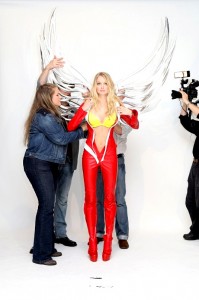 Morning, beauties! Today is the day: The 2011 Victoria's Secret Fashion Show is here! Though it isn't due to be shown (aka edited for) CBS until November 29th, the fashion and beauty world is already in a tizzy (myself included).
Preparing for the show, above, is Lindsay Ellingson, who said:
"It's like the most fun I have every year. I get to hang out with my best girlfriends and wear the sexiest outfits. […] My first outfit is full body leather, so I don't feel insecure at all, and my last outfit, I'm very covered as well. But my second outfit, I mean, I have a thong on! I just don't really think too much about it because you can really freak yourself out on a runway and think, 'Oh my gosh, there's millions of people that are gonna see this. […] I kind of just imagine that only the people in the room are watching and I'm wearing a full bathing suit."
Someone a little more affected by baring and sharing for over 8 million people? Adriana Lima. This week, "The Adriana Lima Diet" has been gaining lots of media attention after she revealed that on top of two intense workouts every 24 hours, she has begun to drink a gallon of water a day, spend the nine days pre-show without any solids (only consuming protein shakes), the two days pre-show drinking a normal amount of water, and no liquid at all from 12 hours before she takes the runway, to "dry out". (OH MY BODY DAMAGE).
With over 12 million dollars spent on the show, and 6 'themes' to knock out of the park (Ballet, Super Angels, Passion Play, Angels Aquatic, I Put a Spell on You and Club Pink), the pressure is obviously high. Let's hope she's taking her vitamins, too!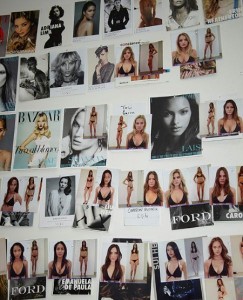 And, looky here! An exclusive call sheet from backstage! Looks like Candice, Miranda, Adriana, Doutzen, Alessandra, Lindsey E, Lily A, Erin, Behati, Chanel, Anja, Magdalena, Constance, Lily D, Izabel, Anne V, Shannan, Toni, Lais, Flavia, Joan, Karlie, Liu Wen, Cameron, Maryna, Caroline Brasch, Anais M, Emanuela, Jacquelyn, Sui He, Jessica Clarke, Elsa Hosk, Julia Stegner, Karmen, and Bregje will all be walking!